Zoom PodTrak P8 Podcast Recorder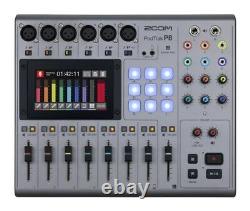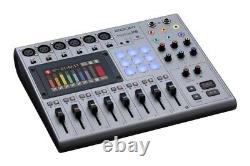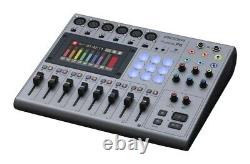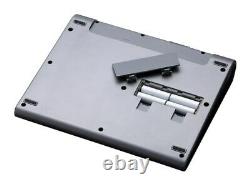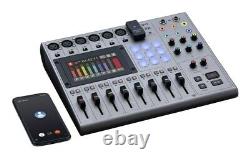 Zoom PodTrak P8 Podcast Recorder. Overview by GAKZoom's PodTrak P8 is a fully-comprehensive podcasting tool. It has all the features you need to create pro-quality podcasts - and you don't need to be a technical wizard to achieve the best results! It's effectively a powerful podcasting studio is a portable and easy-to-use package. Get casting with the PodTrak P8 today! Professional Quality PodcastsIf you're looking for an all-in-one podcasting solution, you cannot go wrong with the PodTrak P8. You can plug in up to six mics at once and each input feature Zoom's premium mic preamps with up to 70dB of gain - so any mic you use will sound its best. Once you're plugged-in, you have access to handy settings that allow you to dial-in your perfect sound with ease. First up is the Pre-Amp Slider, which is used to set each mic's gain settings and features a handy meter that tells you when your signal is in the "Good Range". Next is the Limiter, which can prevent the signal from overloading/clipping. You can then reduce unwanted background noise with the Low Cut and make your voice darker or brighter with the tone adjustment slider. At the end of the chain is the Compressor/DeEsser, which gives your voice that slick, professional sound. All-In-One PackageThese adjustments are made via the intuitive colour touch-screen, which makes the Zoom PodTrak P8 an absolute breeze to use. All the functions you need to edit, tweak and monitor your podcasts are right at your fingertips! You can either use the intuitive editing tools that are built-in (which let you split, trim and fade clips using the touch screen) or transfer the files to your computer for the final mix. Someone's On The Line!
If you want to record a guest using a computer you can switch Channel 6 to USB mode. A very handy Mix-Minus feature prevents echo and feedback. Multiple Recording OptionsThe physical slider, inputs and individual headphone outputs are all colour-coded, taking the hassle out of setting up the right levels for your guests and co-podcasters.
Each headphone out has its own level control and there's also a main stereo out for your studio monitors. If you want to record directly to your computer or live-stream your podcast - you can! - as the Zoom P8 doubles as a 2-in/2-out audio interface. It's compatible with PC, Mac, iOS and Android devices.
Take It To The Next LevelUsing the 9 multi-colour sound pads, you can instantly launch sound-effects, music clips and other audio during your podcasts. There are 4 banks of sounds with 9 clips in each bank that you can use to store custom sounds, in addition to the 13 that come with the P8. Studio On-The-GoA huge advantage of the Zoom P8 is its portability, enabling you to record professional podcasts wherever you take it. It can run off of 4 AA batteries (which provides up to two hours of recording time) or a USB power-supply. The straightforward nature of the Zoom PodTrak P8 means you can focus on making a great podcast, without having to worry about the sound!
Podcasting SimplifiedThe Zoom PodTrak P8 is easy to use and can handle the most ambitious podcasts. With all the functions you need to record, edit and mix, the PodTrak P8 is your complete podcast studio. Touchscreen ControlsThe color touchscreen interface makes monitoring, adjusting and onboard editing seamless. Everything you need is a touch away.
P8 TOUCHSCREEN:- The Mic Preamp Slider allows you to dial in the level or gain of each mic. Make adjustments until the signal is peaking in the "Good Range".
Peaking in the "Over Range" section can cause distortion in your sound. The Limiter is used to prevent distortion. THE BEST PRICE IN EUROPE.
Pro-Audio, DJ and Pianos > Studio Recording > Portable Recorders. THE BEST PRICE & THE BEST SERVICE FOR GUITARS, AMPLIFIERS, PRO AUDIO, DRUMS, LIVE SOUND AND DJ EQUIPMENT. WE STOCK A RANGE OF THE TOP BRANDS INCLUDING FENDER, GIBSON, EPIPHONE, MARSHALL, ROLAND, YAMAHA, LINE 6, IBANEZ, BOSS, ALESIS, PEAVEY. SUBSCRIBE TO OUR MAILING LIST. The item "Zoom PodTrak P8 Podcast Recorder" is in sale since Thursday, April 29, 2021.
This item is in the category "Musical Instruments & DJ Equipment\Pro Audio Equipment\Recorders". The seller is "gak-music" and is located in Brighton. This item can be shipped to United Kingdom.
EAN: 4515260023424
Brand: Zoom
MPN: 317614
Type: Portable Recorders