Tascam US-1x2HR High-Resolution USB Audio Interface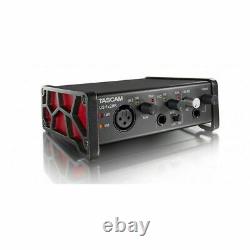 Tascam US-1x2HR High-Resolution USB Audio Interface. Quality audio interface in a small box from this, the baby of Tascam's high-resolution US-HR range. Simple 2-in, 2-out design with sampling rates up to 192 kHz / 24-bit. Supplier's Notes: High-Resolution USB Audio Interface (2 in / 1 mic, 2 out) The US-1x2HR is the smallest member of the Tascam US-HR series of high-resolution USB audio interfaces. It has one mic and one instrument input and is therefore particularly suitable for simple and intuitive guitar/vocal recording with a computer. The included loopback function and support for Open Broadcaster Software (OBS Studio), however, makes it also an excellent choice for podcast creation and live streaming. Last but not least, it is a perfect solution for feeding an amplifier system with music from a computer in high quality, for example for a birthday party. The compact US-1x2HR incorporates a wealth of features, including high audio resolution up to 24-bit/192 kHz, ultra-low latency with a Windows buffer size starting at four samples, Ultra-HDDA mic preamplifiers with 48-volt phantom power for superior sound quality with ultra-low noise, a robust USB Type C connector, and a rich assortment of included software to start producing audio right away. The lightweight interface is ideal for mobile recording and production using an iPhone or iPad with the included Cubasis LE so you can take it to your practice room, use it to report from a live event, or capture nature sounds outdoors. All US-HR models offer a unique dye-cast aluminum honeycomb structure on the side panels with a slight upward tilt. This design not only results in a sleek, eye-catching design, it also provides just the right amount of weight so the interface won't move when cables are connected or disconnected.
Equally important, the upward tilt offers the ergonomic benefit of being angled in such a way as to make the interface easy to work with. A recording environment with low noise and great audio performance is a relevant factor for vocal and, in particular, wind instruments. The US-1x2HR features an Ultra-HDDA microphone preamplifier with a very low noise level that makes this interface the ideal tool for recording with a condenser microphone.
You can also plug in your electric guitar or bass directly using the line/instrument input and use plug-in effects on your computer recording (DAW) software. Or connect any instrument or hi-fi amplifier's line output to the line input.
The US-1x2HR is also a great tool on the road: Combine it with an iPad and you can capture nature sounds, stream interviews from live events, or simply record your ideas with high quality wherever you go. Even if you're not so familiar with recording equipment, the US-1x2HR's user-friendly design enables you to use it right away. The US-1x2HR can improve your sound when playing music from your computer. No matter if you create your own dance music using software synths and other plug-ins or if you are the DJ on a birthday party - with its high audio quality and separate controls for headphones and line outputs (loudspeakers) the US-1x2HR easily turns your computer into a perfect-sounding playback device.
You may have noticed that your sound system is not very loud when powered directly from a computer. When using the US-1x2HR to feed your power amplifiers, its high line output level ensures you get the maximum power out of your sound system. Instead of a computer, you can also use an iPad or iPhone together with the US-1x2HR to make music. Performance has been tested with not only the bundled digital audio workstation (Cubasis LE3), but also with other popular recording software - you can continue to use them even if you change DAW software. The Settings Panel, which is installed on your computer, comes with a variety of functions. You can choose whether direct monitoring is done in mono or stereo and adjust the balance between input and computer signals.
You can also switch the hardware inputs on and off individually and set the Windows buffer size according to your working environment. For online broadcasting, Internet communication and other live streaming applications, the US-HR series interfaces offer a Loopback function which can merge input signals 1/2 with signals 1/2 coming from the computer (each can be set to mono or stereo) and send that mix to the broadcasting or other software on the computer.
A software slider allows to adjust the final "broadcast" volume independently from the unit's line output level setting. Maximum input level (Mic/Line/Inst): +10 dBu / +20 dBu / +3 dBV Maximum input gain (XLR/TRS): 58 dB / 45 dB Maximum output level: +6 dBV Mic preamp equivalent input noise: 128 dBu S/N ratio: 109 dB / 110 dB Distortion (THD+N, mic to computer): 0.0013% Crosstalk: 95 dB Power supply: USB / DC 5 V, 700 mA Power consumption: 1.8 W Overall dimensions (W x H x D): 146 mm x 55 mm x 120 mm Weight: 623 g. Advanced version of Tascam''s popular US-1x2 with even better sound quality. Can be used with Windows, Mac, iOS, iPadOS.
Sampling rates up to 192 kHz / 24 bit. Inputs: 1 × XLR with switchable 48 volt phantom power, 1 × TRS switchable between Line (balanced) and Instrument, alternatively 2 × RCA on the rear. Outputs: Stereo Line out (RCA). Standard 6.3-mm headphones output (18 mW per channel).
Independent level controls for line and phones outputs. Loopback function for live streaming etc.
Input and computer signals each stereo/mono selectable, OBS-compatible. Power supplied through USB (an additional AC adapter is required for use with an iPhone/iPad). Automatic power saving switchable on/off. Rugged aluminum body with tilted panel for easy accessibility. Bundled with Cubase LE and Cubasis LE3, IK Multimedia SampleTank 4 SE and Antares Auto- Tune Unlimited (free 3-month subscription).
This item is in the category "Musical Instruments & DJ Equipment\Pro Audio Equipment\Audio/MIDI Interfaces". The seller is "junorecords" and is located in this country: GB. This item can be shipped worldwide.
Brand: Tascam
MPN: US-1X2HR
Type: USB Audio Interface
EAN: 4907034132744