Steinberg UR22C USB Audio Interface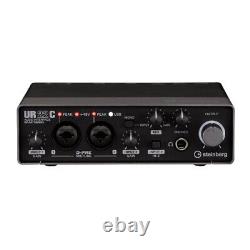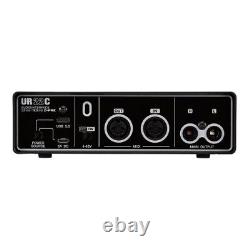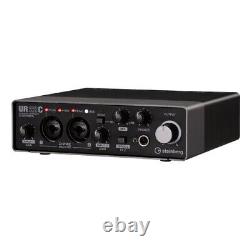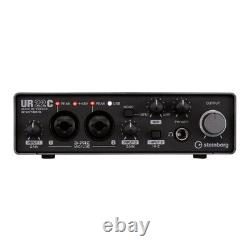 Steinberg UR22C USB Audio Interface. Steinberg UR22C USB Audio Interface High-end sound quality and functions inherited from the high-end are concentrated in a compact metal body.
Combined with a laptop or iPad, you can make your music anywhere. If you're going to go to great lengths to make a song, you want to finish it with great sound quality no matter where you record it. The UR22C is equipped with surprisingly high quality sound in such a compact body. 32-bit / 192 kHz Analog-to-digital conversion is the first critical step in audio production. The UR-C series is based on the well-established quality of the UR series, aiming for even higher sound quality.
In addition, we have optimized the hardware components for this converter. It accurately and transparently captures the nuances and dynamic range of every recorded signal, preserving the most subtle sonic details throughout the music-making process.
SuperSpeed USB 3.1 with USB-C Equipped with a USB 3.1 Gen 1 compliant USB-C terminal, high-speed data transfer and bus power drive (excluding UR816C) support high versatility and mobility. In addition, the latest SSP3 chip and driver achieve low latency, ensuring stable operation in any recording environment. USB 2.0 compatibility ensures high performance even on computers without USB 3 ports. Tough housing From the sturdy body to the internal structure, the UR-C has cleared strict manufacturing standards and maintains high reliability even under harsh conditions.
From everyday carrying to outdoor recordings and tours, hardware is always in danger of vibration, shock, and falling, but with the UR-C, there's no need to worry. No matter what the session, she will always perform at her best. DSP Monitoring & Effects The custom-made DSP chip "SSP3" provides a versatile and flexible monitoring matrix and powerful effects. Eliminates the problem of monitor sound delays in software music production environments, and freely mixes audio data and input sources while making full use of DSP effects (Sweet Spot Morphing Channel Strip / REV-X / Guitar Amp Classics).
In various DAW environments, you can build latency-free monitor mixes via the dspMixFx UR-C mixer application (Mac / Windows / iOS / iPadOS). If you use Cubase, you can control these monitoring functions from within Cubase or from the dspMixFx UR-C as True Integrated Monitoring. D-PRE mic preamp The UR-C series is equipped with a Class A mic preamp D-PRE. Developed by Yamaha's experienced engineers, this preamplifier has an extremely flat response due to a concept that foresaw sound creation using plug-ins and outboards, and captures the pure nuances and expressiveness of the audio source. The UR-C series uses an AD/DA converter that supports up to 32-bit/192kHz, and has succeeded in making the most of the natural sound quality of the D-PRE.
Compatible with major audio software The UR-C series is compatible with many music production / audio editing / mastering software on the market that supports ASIO / Core Audio / WDM, including Cubase. Easy to install and use with your favorite DAW, the built-in SSP3DSP chip and dspMixFx technology give you latency-free monitoring and effects. IOS/iPadOS compatible CC mode Equipped with CC (Class Compliant) mode that can be used with Apple iPad and iPhone. In combination with iPad-compatible music production applications such as Cubasis, high-quality recording can be achieved with simple settings anytime, anywhere. Furthermore, the UR22C and UR44C can also be driven by supplying bus power from an iPad Pro equipped with a USB-C terminal. Loopback function Equipped with a convenient loopback function for Internet video distribution. The audio signal line, guitar, mic, etc.
Input to the UR-C's input terminal and the audio signal being played back from DAW software such as Cubase are mixed into 2 channels inside the UR-C and sent back to the computer. Can be distributed over the Internet through streaming software, etc. You can also use the UR-C's built-in DSP effects to apply reverb in real time, for example.
[Attached software] ·Cubase AI ·Cubasis LE ·dspMixFx UR-C ·Steinberg Plus [Attached effects] ·Basic FX Suite ·REV-X reverb ·Sweet Spot Morphing Channel Strip ·Guitar Amp Classics ·Clean ·Crunch ·Drive ·Lead? General ·Connection method: USB Type-C ·Shape: Desktop (1/3 19 1U) ·Body: Full metal ·Power supply: USB 3.0 bus power, USB Type-C bus power, External USB 5 V AC adapter (not included)?
Specifications ·AD/DA: 32 bit ·Maximum sampling rate: 192 kHz ·Input dynamic range: 102 [dB] - Number of inputs/outputs: 2 ·Number of individual outputs: 2 ·Number of outputs: 2 ·Microphone preamp: D-PRE ·Microphone input: 2 ·Line input: 2 ·HI-Z input: 1 ·Analog input TRS: 0 ·Analog Input Combo: 2 ·Analog output TRS: 2 ·Phantom power: 2 ·Headphone: Independent level ·Headphone output: 1 ·ADAT optical digital input: 0 ·ADAT optical digital output: 0 ·S/PDIF optical digital input: 0 ·AES/EBU RS422 digital input: 0 ·S/PDIF optical digital output: 0 ·AES/EBU RS422 digital output: 0 ·MIDI input/output: Yes? DSP function ·Monitoring: Latency-free monitoring + effect ·Built-in DSP: SSP 3 ·True Integrated Monitoring + FX (when using Cubase): Yes ·High-pass filter:? ·Sweet Spot Morphing Channel Strip:? -External shape/mass: 1000 g ·Width: 159 mm ·Height: 47mm ·Overall length: 159mm?
Operating environment: OS (Mac): macOS High Sierra, macOS Mojave, macOS Catalina, macOS Big Sur, macOS Monterey OS (Windows 64-bit): Windows 10, Windows 11 (64-bit) Operating systems (iOS): iOS 10, iOS 11, iOS 12, iOS 13, iOS 14, iOS 15, iOS 16 Terminal: USB Type-C, USB 3.0, USB 2.0 RAM (required): 4GB Free disk space: 1200 MB. In addition to the head office warehouse (Kitakyushu City, Fukuoka Prefecture), we store our inventory products at the Kawagoe Warehouse (Kawagoe City, Saitama Prefecture).
A specialty shop offering a wide variety of carefully selected Japanese brand items. Even if you think to yourself, But the item I want is only available in Japan.
, make sure to consult with us before giving up hope. We will look for and suggest the best products on your behalf. International Buyers - Please Note.
This item is in the category "Musical Instruments & Gear\Pro Audio Equipment\Audio/MIDI Interfaces". The seller is "chi-pon" and is located in this country: JP. This item can be shipped worldwide.