Singxer SU-1 USB2.0 Audio Bridge Digital Interface Amplifier with XMOS XU208 panDE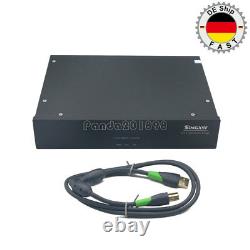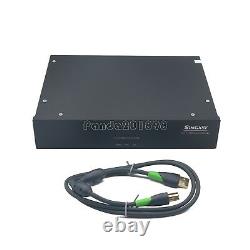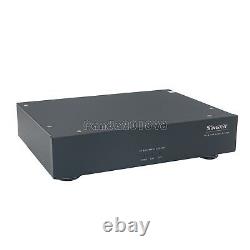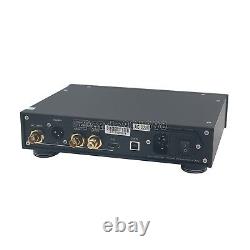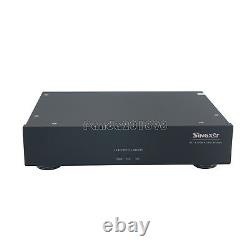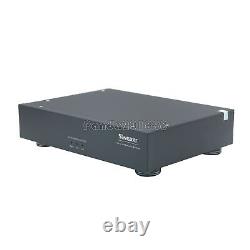 Singxer SU-1 USB2.0 Audio Bridge Digital Interface Amplifier. W/ XMOS XU208 panDE Description: SU-1 digital interface of our team to develop a high-performance USB digital audio interface, using the XMOS latest xCORE-200 series chip.
SU-1 is the independent development low jitter clock digital system interface(CRYSTEK CCHD-575/957 SERIES). SU-1 digital interface using standard USB2.0 input interface, while SU-1 has many output interfaces, including XLR Balanced Output AES, coaxial RCA and BNC, using HDMI socket output I2S port, WCLK clock output. X-1 is the first use of XMOS latest xCORE-200 series USB interface digital products. New generation XMOS chip, using more advanced processing technology, performance is 2 times than the older U8 chip , reaching 1000MIPS processing capabilities.
It is known, the core of the algorithm is digital audio. Our team has been in digital audio field for many years, at the same time get XMOS FAE team support, we conducted a number of technical improvements and algorithms optimization on the basis of the original firmware. Specifications: Each output interface supports sampling rates: PCM: - 44.1KHz, 48KHz, 88.2KHz, 96KHz, - 176.4KHz, 192KHz, 352.8KHz, 384KHz I2S support all sampling rate, S/PDIF support upper to 192KHz DSD: - 2.8 MHz (DSD64)-DoP, native - 5.6 MHz (DSD128)-DoP, native - 11.2 MHz (DSD256)-native (I2S output support all DSD, S/PDIF, AES/EBU support DSD64 DOP mode) Bits width: - The highest 32 bit over I2S output - The highest 24 bit over S/PDIF Each interface electrical standards: - USB input socket is a standard USB-B type socket, USB power supply range 4.5V-5.1V; - RCA connector outputs standard S/PDIF signal, electrical level is 550mV (standard connection load), the output impedance of 75 ohms. Power suppply input is AC 115V/230V, using TALEMA transformer. Design details: - Carry out electricity as the mother of the acoustic design concept, pay attention to the power supply circuit design, high-performance, low noise and fast response of the LDO as the main power source.
The entire board using a multi-way independent of the LDO power supply, wherein the clock even partially adopted ADI's ultra low noise LDO, in order to ensure the ultimate output performance. PCB motherboard with 4-layer circuit board design, make sure you have a complete ground plane and power planes, high-speed digital design methods to ensure signal integrity and power integrity of the entire board. The clock signal special treatment, the use of package design and precise impedance control, thereby ensuring the signal quality and increase the clock anti-jamming capability.
Input and output signals are to follow standard design, especially USB high speed signals using a 90 ohm differential impedance control. System compatibility: - Windows XP, Windows 7, Windows 8;32/64 bit, need install driver - Native MacOS 10.6 and later, use own driver - Native Linux with UAC2 compliant kernel, use own driver - Android OS 4.2 and above, need support OTG function I2S port use HDMI socket output: - Electrical level is 3.3V LVDS differential signa. DSD ON singnal, 5Vpower supply, CPLD has processed the MUTE signal, so do not need to process it again. DSD ON signal can be user-defined, DSD ON signal can be connected to PIN 13,14,15,16 on the socket. You can adjust the phase of PIN 1-3 and PIN 7-9 with a switch. Flexible HDMI-I2S output configuration: - SU-1 can configure HDMI-I2S with switch, Switch 1-4 is HDMI PIN13-16, turn it to "on", it means that HDMI PIN has DSD-0N fuction. Switch 5 is phase of HDMI PIN1-3 and PIN 7-9, when we turn it to "ON", it is plus phase, "OFF" is minus phase.
(When it is "ON", you can connect it with Gustard DAC, when it is "OFF", you can connect it with PS AUDIO) - The case of formal version, we will design a hole in the back of the case, so if you want to change configuration, you do not need to open the case. Package List: - 1 x Singxer SU-1. Usually it cost about 35USD-50USD.
The item "Singxer SU-1 USB2.0 Audio Bridge Digital Interface Amplifier with XMOS XU208 panDE" is in sale since Thursday, December 20, 2018. This item is in the category "TV, Video & Audio\Heim-Audio & HiFi\HiFi-Systeme/-Kombinationen". The seller is "panda201898" and is located in Bremen. This item can be shipped worldwide.
Herstellernummer: nicht zutreffend
Herstellungsland und -region: China
Produktart: Digital Interface Amplifier
Modellkompatibilität: Universal
Modell: SU-1
Farbe: Schwarz
Markenkompatibilität: Universal
Marke: Singxer