RME Fireface UFX Plus USB 3.0 Thunderbolt Audio Interface Mint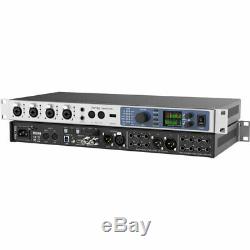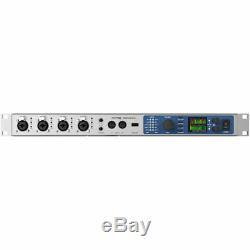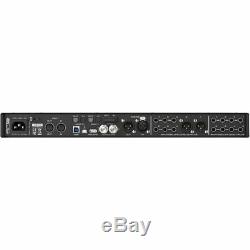 RME Fireface UFX+ USB 3.0 and Thunderbolt Audio Interface. The Fireface UFX+ from RME is an audio interface that combines analog, ADAT, MADI, AES, S/PDIF, USB 2, USB 3 and Thunderbolt connectivity, with the ability to handle up to 94 channels of audio I/O with ease. Also included are DURec (Direct USB Recording) and RME's renowned low-latency hardware and driver designs, making the interface especially suitable for situations where large amounts of data need to be moved about. For monitoring, low impedance Hi-Power headphone outputs provide ample power for driving any high- or low-impedance headphones. In USB 2 mode, which is limited to 30 channels I/O (12 analog plus 16 ADAT plus AES), the MADI I/O is still available via RME's TotalMix FX digital mixer. Wordclock I/O (BNC) can be switched to MADI I/O (coaxial), and a special split mode supports the use of both MADI I/Os simultaneously, with 32 channel each on optical and coaxial. DURec, available on the front of the interface, offers second generation hardware with improved USB functionality and compatibility, providing greater reliability even with slower or multi-partitioned USB thumb drives.
The maximum number of recordable channels has been raised to 76, meaning all 12 analog inputs plus 64 MADI channels can be recorded simultaneously. An internal Realtime Clock (RTC) delivers time-stamped files. TotalMix provides unlimited routing and mixing to the interface, with the capability to create as many independent submixes as output channels are available, and includes a complete effects system.
TotalMix FX for iPad (available separately) adds full control over the mixer and DSP effects. Internal, ADAT, AES, MADI, Wordclock Low Jitter Design. 30 dB (2.4 kHz) Effective Clock Jitter Influence on AD and DA Conversion: Near zero PLL ensures zero dropout, even at more than 100 ns jitter Digital Bitclock PLL for trouble-free Varispeed ADAT operation Supported Sample Rates: 28 kHz up to 200 kHz. 2 x 5-pin DIN MIDI I/O (front panel) 2 x 5-pin DIN MIDI I/O (rear panel) Galvanically isolated by opto-coupled input Hi-Speed Mode: Jitter and response time typically below 1 ms Separate 128 byte FIFOs for input and output 1 x MIDI I/O via MADI Invisible transmission via User bit of channel 56 (up to 48 kHz) Invisible transmission via User bit of channel 28 (up to 96 kHz). MADI Optical via FDDI duplex SC connector 62.5/125 and 50/125 compatible Coaxial via BNC (Wordclock input), 75 Ohms High-sensitivity input stage. 30 dB (2.4 kHz) ADAT Optical 2 x TOSLINK, format according to Alesis specification Standard: 2 x 8 channels 24-bit, up to 48 kHz Double Speed (S/MUX): 2 x 4 channels 24-bit 96 kHz Quad Speed (S/MUX4): 2 x 2 channels 24-bit 192 kHz Bitclock PLL ensures perfect synchronization even in Varispeed operation Lock range: 31.5 kHz to 50 kHz Jitter When Synced to Input Signal. 30 dB (2.4 kHz) Wordclock 1 x BNC Internal termination 75 Ohms switchable Automatic Double/Quad Speed detection and internal conversion to Single Speed SteadyClock guarantees super low jitter synchronization even in Varispeed operation Not affected by DC-offsets within the network Signal Adaptation Circuit: Signal refresh through auto-center and hysteresis Overvoltage protection Level Range: 1.0 V p-p to 5.6 V p-p Lock Range: 27 kHz to 200 kHz Jitter When Synced to Input Signal.
30 dB (2.4 kHz). Temperature Range: 41 up to 122. F +5 up to +50. Also, Items which we do not normally stock i.
"Special Orders", discontinued products, close-outs, used products, etc. We strongly suggest that you check your order after receiving it to be sure that it is in proper working order.
You can feel confident when purchasing from eStudioStar. We sell ONLY factory-sealed products, and are an Authorized U. Dealer for all of the brands that we carry. They will help you with any questions you may have on product choice, and work to get you the best prices available.
The item "RME Fireface UFX Plus USB 3.0 Thunderbolt Audio Interface Mint" is in sale since Thursday, December 5, 2019. This item is in the category "Musical Instruments & Gear\Pro Audio Equipment\Audio/MIDI Interfaces". The seller is "e_studio_star" and is located in Las Vegas, Nevada.
This item can be shipped worldwide.
Brand: RME
Model: 714573528426
MPN: Fireface UFX+