PreSonus StudioLive 32S Series III 32-ch digital mixer/USB audio interface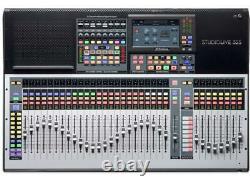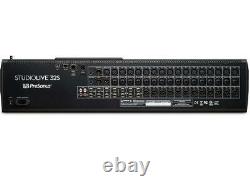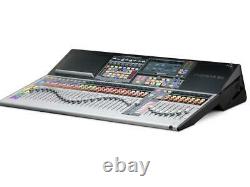 PreSonus StudioLive 32S Series III StudioLive 32-channel digital mixer and USB audio interface. The StudioLive 32S is a powerful 32-channel mixer that provides the ultimate mixing experience, packing large format features into a small format chassis. Powered by the dual-core PreSonus FLEX DSP Engine, the StudioLive 32S digital mixer is equipped with 40 mixing channels, 26 mix buses, and 286 simultaneous processorsincluding 4 stereo reverberation systems, and Fat Channel plug-in models on every input channel and mix bus.
With 128 (64x64) channels of USB recording, 128 channels of AVB network audio I/O, flexible routing options, and studio-grade audio quality, the StudioLive 32S delivers a fast and intuitive, surface-driven workflow for total control. Spend less time menu-diving and more time mixinghands-on. The StudioLive 32S digital mixer and the complete PreSonus® StudioLive Series III ecosystem of AVB networking products allow you to create a system that is truly customized for your needs. Connect NSB-series stage boxes to add remote analog inputs and outputs wherever they're required. Network with a StudioLive Series III rack mixer and add a dedicated monitor mixer. Add EarMix 16M personal monitor mixers to give your musicians their own customizable 16-channel monitor mixes. Multiple StudioLive Series III digital mixers can be networked, allowing you to route audio to and from any device on the audio network, thanks to the flexibility of Digital Patching onboard your StudioLive 32S digital mixer and in UC Surface remote mixer software. PreSonus Capture® recording software is an intuitive multitrack recording application with a fully integrated Virtual Soundcheck mode that runs directly on your StudioLive 32S digital mixer or on your computer running macOS® or Windows®. Record any combination of channels, FlexMixes, and the Main stereo mix via USB, to an SD Card, or both for the ultimate redundant live recording rig. StudioLive mix scenes can be stored with your recordings to speed up virtual soundchecks. Best of all, Capture sessions open natively in Studio One® with the entire StudioLive mix scene re-created in the Studio One console, complete with fader levels, Fat Channel settings, mutes, solos, and more. No other multitrack software makes recording as fast, simple, and hassle-free so you can focus on mixing the show. We built our reputation designing great-sounding analog circuits for critical studio recording environments, and we put all of that experience into designing the StudioLive 32S digital mixer.
In 1995, PreSonus patented digital control over analog circuits with our first studio product. Building on this legacy, we created a separate digital volume-control circuit ahead of our lauded analog XMAX mic preamp design, providing the convenience of digital recall without sacrificing fidelity.
This allows the StudioLive 32S mic preamps to be remote-controlled with UC Surface software or Studio One, and when you load a StudioLive 32S mixer scene, the mic preamp trim values can also be recalled along with the other settings. The dynamic Fat Channel on the StudioLive 32S digital mixer puts critical EQ and Dynamics functions beneath your fingertips while giving you fast access to every parameter.
Ten included vintage EQ and classic compressor Fat Channel plug-in models can be used onboard your mixer as well as within Studio One. And when you're ready for more signal processing options, PreSonus offers four Fat Channel plug-in collections with 15 additional models. Fat Channel plug-ins can be inserted on every input channel and output bus.
Now you can enjoy extensive, studio-style processing whether recording in the studio or running shows on the road. PreSonus designed the StudioLive 32S digital mixer to adapt with your changing needs, whether you're mixing in the studio or on a busy festival stage. The 16 FlexMixes on the StudioLive 32S digital mixer can be individually configured to function as an aux bus, a subgroup, or a matrix mix.
Four designated effects buses provide a total of 24 mix buses plus an independent solo bus and the main mix. We also provided 24 DCAs so you can more easily and flexibly control groups of channels. No other digital mixer provides this much flexibility.
StudioLive Series III digital mixers incorporate the concept of an analog patchbay and digitize it. This lets you customize your mix configuration by patching any analog input or digital return (AVB, USB, or SD Card) to any channel you like. This flexible feature also allows you to freely route audio to your AVB network and record any of the inputs and FlexMixes on the 64 USB sends. Digital Patching also makes it easy to quickly route to and source from your AVB audio network when using the StudioLive 32S as part of a complete networked audio system. And with a fader for all 32 channels, plus 8 additional faders to manage your bus outputs, you always have total control of your entire mix. With 128 (64x64) channels of recording over USB, the StudioLive 32S is not just the best digital mixer for live sound recording; it's the best digital mixer for the studio, as well. Each channel can independently access its analog input or its dedicated digital return from your computer.
While the StudioLive 32S is compatible with any DAW, Studio One and the StudioLive 32S are the perfect pair to elevate your studio recording environment. Remote control your StudioLive 32S digital mixer's recallable XMAX mic preamps and Fat Channel processing from Studio One Artist.
Press the DAW button on your StudioLive 32S digital mixer and use the 33 touch-sensitive motorized faders to control your Studio One mix. Seamless integration and thoughtful bidirectional control with Studio One make the StudioLive 32S the best mixing console for the modern recording studio. PreSonus Studio One® Artist DAW is included with the StudioLive 32S.
PreSonus StudioLive Series III digital mixers are tightly integrated with an entire suite of state-of-the-art software. Mix wirelessly using UC Surface touch-control software for macOS®, Windows, iPad® and Android. Control your monitor mixes with QMix®-UC for iPhone®, iPod® touch, and Android devices. Whether you're adjusting monitor mixes on stage, moving around the room to dial in your mix, or using your mobile device as a second screen for your StudioLive 32S digital mixer, remote controlling your mix from anywhere just got easier. The StudioLive 32S is the flexible cornerstone for a custom AVB network that is easily expanded and quickly configured. Designed to complement each other, StudioLive Series III networked products form an ecosystem that is at the forefront of AVB networking technology. Route audio to EarMix 16M personal monitor mixers.
Connect NSB-series stage boxes and StudioLive Series III rack mixers. To add remote inputs and outputs.
With powerful plug-in processing, a fader for every channel, and integrated networking onboard, the StudioLive 32S delivers an unmatched mixing experience that combines digital power with analog ease of use. This suite of plug-ins adds a wealth of fresh virtual instruments and effects to Studio One. Cherry-picked from the first names in virtual instruments and effects, each plug-in brings a different flavor of practical magic to your songs. These plug-ins aren"t gimmicky one-trick ponies these are real-deal workhorses that you"ll rely on for countless mixes. Powered by the new dual-core PreSonus FLEX DSP Engine to provide the most processing of any digital mixer in its class. 40 input-channel digital mixer with 33 touch-sensitive motorized faders. 32 local digitally controlled XMAX mic/line inputs. 2 balanced stereo aux inputs. 1 stereo tape input (RCA, Bluetooth, USB, AVB or SD). 16 FlexMixes (Aux, Subgroup, Matrix). 4 dedicated FLEX FX buses.
Compressor with Fat Channel plug-in models. 4-band/6-band parametric EQ with Fat Channel plug-in models.
4 FLEX FX slots featuring legendary classic reverb emulations and delays. State Space-Modeled Fat Channel compressor and EQ plug-ins available on every input channel and output bus. FLEX FX multi-effects processor with 4 slots to load legendary reverb emulations and delays with 4 dedicated effects buses. 24 DCAs to control groups of channels. 128-channel (64x64) recording over USB.
Onboard multi-channel SD recorder (34x34) with true Virtual Soundcheck mode. AVB Networking onboard (64x64) to connect with other mixers, NSB-series stage boxes, EarMix 16M personal monitor mixers and more. User Profiles for managing multiple operators with custom permissions. Per channel digital patching from any analog, AVB, USB, or SD Card source. Advanced Studio One control integration.
MCU emulation mode optimized for Logic. HUI emulation mode optimized for ProTools. Remote control every mix function from your computer, iPad, or Android tablet with UC Surface (included). Put your musicians' monitor mix under their fingers with QMix-UC (included) for iOS or Android.
Capture 3.0 multitrack software included. Store StudioLive mix scenes with your audio. Advanced Studio One integration (Studio One Artist Included). XMAX mic preamp control from Studio One. Control Fat Channel parameters from Studio One mixing console.
MacOS® 10.11 or higher (64-bit only). Intel® Core 2 Duo processor (Intel Core i3 or faster recommended). 4 GB RAM (8 GB or more recommended). Windows® 7 x64 SP1 + platform update, Windows 8.1 x64, Windows 10 x64. Intel Core 2 Duo (Intel Core i3 or faster recommended). Internal or external 7200 RPM storage drive highly recommended. 30 GB hard disk space. IPad Pro, iPad Air 2, iPad Air, iPad mini 4, iPad mini with Retina display, iPad (4th generation).
Android 5.0 (Lollipop) or later. Android tablet (8-inch) with 1024x768 resolution (UC Surface). Great Prices and Exclusive Offers Every Day. It may vary, especially during peak holiday periods. Our Price Match Guarantee only applies to brand-new products.
We will not match the price of used, b-stock, or refurbished items. Located in Northern California, BZB Express has been an established Audio/Video and Broadcast Equipment supplier since 2005.
Exclusive relationships with highly regarded manufacturers allow BZB Express to provide the most affordable prices to dealers, resellers, commercial integrators, and end-users. Commitment to excellent service and delivering dependable products with efficiency is BZB Express staple and foundation. The item "PreSonus StudioLive 32S Series III 32-ch digital mixer/USB audio interface" is in sale since Monday, November 16, 2020. This item is in the category "Musical Instruments & Gear\Pro Audio Equipment\Live & Studio Mixers".
The seller is "bzbexpress" and is located in Sacramento, California. This item can be shipped worldwide.
Brand: PreSonus
Model: StudioLive 32S
Number of Line Inputs: 16
Powered/Non-Powered: Powered
Suited For: Home Recording
Type: Mixing Console
Number of Phono Inputs: 16
Product Line: StudioLive
Inputs/Outputs: Analog XLR Out
Analog/Digital: Digital
Number of Channels: 32
MPN: SL32S