Presonus AudioBox 96 Studio Ultimate Bundle, 25th Anniversary Ed. (NEW)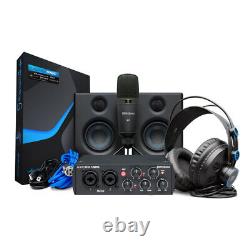 Presonus AudioBox 96 Studio Ultimate Bundle, 25th Anniversary Ed. The core of this package is the AudioBox USB® 96 25th Anniversary Edition audio/MIDI interface and award-winning Studio One recording and production software. Lastly, the M7 dynamic microphone is a superior all-purpose condenser mic ideal for guitar and vocals-and we even included all the necessary cables and a desktop mic stand. AudioBox USB 96: Simple, Reliable, And Portable. The AudioBox USB 96 is the heart of the AudioBox Studio Ultimate Bundle. This simple, handy little audio/MIDI interface has just the right features for basic recording needs, including two combo mic/instrument inputs and zero-latency monitoring, so you can simply plug in and start recording right away. Bus-powered, built to travel, compatible with most recording software for Mac and Windows, and equipped with high-performance microphone preamplifiers and professional-quality, 24-bit, 96 kHz converters, the AudioBox USB 96 makes high-definition recording easy. The AudioBox USB96 has been responsible for the great sound on countless albums, podcasts, live streams, and Zoom calls and here at PreSonus, we wanted to honor that with a special 25th Anniversary Edition featuring a sleek, black enclosure. Studio One Artist Makes Recording A Breeze. No other entry-level recording and production software is this easy to learn and use, yet is capable of creating studio-quality output.
Studio One® Artist lets you work quickly and stay focused on your inspiration, offers unlimited tracks and plug-ins, and delivers features not normally found in entry-level DAWs. Access powerful editing tools without wading through menus.
Load and save audio clips, MIDI files, and effects by drag-and-drop. Studio One makes it easy! PreSonus® Eris-series studio monitors are used worldwide by audio engineers who need to hear every detail of their recordings. Eris E3.5 employs the same technology as the larger Eris models to deliver studio-quality sound, with a smooth and accurate frequency response. They're compact enough to fit almost anywhere, but still offer robust I/O-you can connect them to nearly anything. Capture Every Nuance With The M7 Condenser Microphone. Get your mic collection off to a good start with the M7 large-diaphragm condenser microphone and desktop stand.
Condenser mics are the overwhelming choice of recording studio professionals, enabling you to capture musical details, harmonics, and subtle nuances that would get lost with dynamic mics. Large-diaphragm condenser microphones, like the M7, tend to "warm up" a sound, making them the go-to microphone for recording vocals and a wide range of instruments. Hear Every Detail With HD7 Professional Headphones. PreSonus' high-definition HD7 headphones take advantage of a patented, semi-open sound chamber to deliver exceptionally deep low frequencies with a balanced and yet powerful bass punch. Accurate midrange and extended treble response let you pick out the fine details of a mix or track.
The lightweight, ergonomic design adjusts to any head size, offering a comfortable listening experience during long recording sessions. At PreSonus, we want to make sure that our audio interfaces come with everything you need to craft your own mesmerizing spells in the studio. That's why we include Studio One Artist with every audio interface product we make. But here in Louisiana, we have a word: lagniappe. It means "a little something extra, " and it's in that spirit that we also include the Studio Magic Suite of software with our audio interface products.
The 2020 Studio Magic is a major step up from the 2019 edition, and includes Ableton Live Lite, tutorials from Melodics, 6 virtual instruments, and 9 effects plug-ins in VST, AU, and AAX formats... Listing correct at time of upload errors and omissions excepted. Absolutemusic was set up over ten years ago by a group of passionate audio professionals who wanted to deliver better service and greater savings on music gear than could be found anywhere else.
We've since grown into one of the UK's leading music retailers and we've recently moved into a huge new two-storey superstore boasting three massive guitar display walls and dedicated departments for drums, guitars, DJ, live sound, synths & keyboards, hi-tech and accessories. We also have four guitar booths, two soundproofed drum booths, an in-house Guitar Workshop and a unique monitor-auditioning studio designed by acoustician Andy Munro.
Next door is our café and complex of rehearsal and tuition studios available for hire seven days a week, where we also run regular workshops, instrumental lessons, demo events and recording sessions. Soon to be added is a professional recording studio and control room. Every member of our 50-strong absolutemusic team is an experienced musician or engineer who can offer you accurate, expert advice on anything from vintage guitars to the latest software.
Join us here soon to see our amazing 14,000-square-foot showroom and 10,000-square-foot studio complex, and to enjoy our regular in-store events. (absolutemusic, Knighton Heath Estate, 855 Ringwood Road, Bournemouth, BH11 8NE).
Exceptions may apply to non-mainland destinations, the very north of Scotland and non-UK destinations. Most items are delivered on an overnight service (2-3 days for non-mainland UK and 3-5 days for mainland Europe).
Our store opening hours are. Monday - Saturday: 10.00am - 6.00pm. Please note, our Web team are only in Monday to Friday.