Mutec MC-3+ USB Audio Re-Clocke/USB Interface/lowest Jitter Master Clock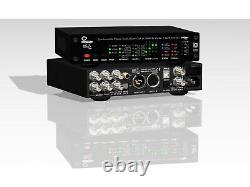 Mutec MC-3+ USB Audio Re-Clocke/USB Interface/lowest Jitter Master Clock. Condition is "Used", no scratches, no tear and wear. WAs used in home Hi-End audio set up. Comes with Rack Mounting kit and 2 50Ohm cables.
A new sonic Dimension for USB Audio. USB interfaces are the most commonly utilized devices for digital audio transmission in a computer-based music playback environment. But the convenience and ease of use often times come at a price of lackluster audio quality to the critical ears of high-end consumer audio aficionados and of professional users. Its no secret that even the best D/A converters are not capable of reproducing and converting audio via USB at the highest possible level, which is why using digital audio inputs such as AES3 or S/P-DIF yields significantly better results and is generally preferred.
We have invested into our own research to uncover the underlying principles and the root of the problem with high-end audio via USB. In a nutshell, electromagnetic interference of any kind, but particularly those caused by audio computers and other IT devices, will induce noise and seriously disturb the audio transmission. In order to eliminate these disturbances and avoid their damaging effect on the conversion process as much as possible we have developed a new signal-isolating, asynchronous USB interface for the MC-3+ Smart Clock USB. It has been designed as a dedicated building block with a power supply thats independent from the main board of the unit.
In addition, the USB interface is galvanically isolated from the other parts of the circuitry and employs its own ultra-low noise audio oscillators that once again are autonomous and isolated from the other processes. In combination with IT-based high-speed isolators we have achieved exceptional reduction of the impact of noise interference within the USB data stream yielding a USB interface thats virtually immune to any interference problems caused by PCs, laptops or music servers.
At the same time, there are no limitations regarding the possible clock rates for playback from your music library with the MC-3+USB supporting all rates possible up to high-speed USB as well as DSD/DoP streams up to DSD/DoP256. All of these features in combination with the subsequent re-clocking process, proprietary to MUTEC, leads to a significant acoustic improvement of connected digital audio devices that usually manifests itself in increased width of the sound stage, more precise imaging, and with a more musical representation of the recorded space and the instruments within it. Stock consumer audio devices, laptops, and audio computers can now achieve a new level of sonic perfection that was previously reserved for equipment with much higher price tags. The MC-3+ Smart Clock USB enables bi-directional audio format conversion (half-duplex) between USB audio streams, AES3, AES3id, and S/P-DIF signals.
In addition to a variety of digital audio outputs like most other competing devices, it furthermore also provides a full set of digital inputs for AES3, AES3id, and S/P-DIF signals with BNC, RCA, and optical connectivity. Audio streams received via USB will always be converted to five audio outputs allowing multiple devices to receive the same audio simultaneously.
Upon selecting one of the audio inputs, the signal will be converted into a USB audio stream to be sent to the computer. At the same time, the source signal will also be converted to the digital outputs of the MC-3+USB, which can be used for monitoring purposes or a digital peak meter, while audio is recorded in the computer via USB. The re-clocking process takes care of delivering your audio at the utmost precision in both cases. Apart from transmitting standard PCM audio the USB interface is further capable of receiving native DSD and DoP streams with up to four times the SACD clock rate (DSD256). These streams will be re-clocked and converted to PCM audio by the MC-3+USB in realtime to pass them on to the five audio outputs simultaneously.
The desired clock rate for the digital outputs can be selected on the front panel with options between 44.1 kHz, 88.2 kHzand 176.4 kHzthat are independent from the clock rate of the incoming DSD or DoP streams. High-end D/A converters or premium music servers often provide BNC connectors for the transmission of S/P-DIF signals, which are the best choice due to their superior electrical properties compared to the RCA connector. With the MC-3+USB you can conveniently convert USB-PCM, DSD/DoP, or AES3 streams to the S/P-DIF format and send it to appropriately equipped high-end receivers via BNC. Four additional outputs in other formats may be used simultaneously to drive digital headphone amps or other digital audio devices for recording and/or monitoring.
While the MC-3+USB is playing back your precious music via the digital audio outputs, the four Word Clock outputs simultaneously provide phase-coherent clock signals. Since those are derived from the internal re-clocking process they have the same ultra-low jitter qualities as the basic clock signal embedded in the audio signals. Furthermore, the clock outputs may be independently switched in pairs to scale to clock rates of up to FS1 x 512, coming out to 22.5792 MHz or 24.576 MHz respectively making the Word Clock signals of MC-3+USB are ideally suited to clock a wide range of studio equipment and high-end DACs, CD players, and audio interfaces from manufacturers such as Esoteric, TACT Audio or M2Tech e. The new Authority for High-resolution Audio Re-Clocking. It is widely known that a master clock improves the sound quality of digital audio devices such as CD players and music streamers or mixing desks and DAWs more or less. But carving out finest details in audio recordings to reproduce individual instruments as clearly and with the best spatial resolution as possible is best achieved with high-resolution re-clocking of the audio material. This is what MUTECs proprietary re-clocking algorithm paired with the 1G-Clock technology provides at the highest level! Our MC-3+ Smart Clock already impressed critics and users around the world, and the MC-3+USB now marks the next generation of re-clocking by MUTEC. Extreme oversampling of incoming data allows the audio to be recombined and merged with a newly generated ultra-low jitter clock signal at ultimate precision, enhancing the re-clocked audio with unparalleled richness of details, spatiality, and musicality. The next Generation in Clocking Technology.
The world-renowned 1G-Clock technology that we introduced with the popular MC-3+ Smart Clock by MUTEC has been setting new standards for the generation of nearly jitter-free clock signals. Our engineers have derived a reference clock rate for our DDS (direct digital synthesis) process through extensive lab testing, which reduces jitter and noise artifacts present in all other DDS algorithms to their absolute minimum.
Building on these fundamentals, we were able to further improve clocking algorithms in the MC-3+USB based on our 1G-Clock technology. The reduction of power supply noise has been taken to yet another level by employing the latest cutting-edge components. All of these measures combined yield an additional, clearly audible improvement in transparency, spatiality, and musicality of the re-clocked audio as our distinguished beta-testers can attest. The MC-3+USB in the Studio and in Live Sound. The new MC-3+ Smart Clock USB serves not only as a generator, but also as a clock distributor.
Unlike other products, the MC-3+USB effectively regenerates incoming clock signals to higher precision as the signal source. This helps to stabilize existing clock systems and improves the level of sound reproduction quality in the studio environment. In cases when the MC-3+USBs digitally compensated clock accuracy is not sufficient, it is possible to lock the system to so-called atomic clocks or GPS receivers, raising the timing accuracy to the highest possible level. In addition to the commonly known 10 MHz frequency of Rubidium-based clocks and GPS receivers, the device also supports 5 MHz Caesium-based clock rates as well as 1 MHz and 2.5 MHz frequencies. The MC-3+ Smart Clock USB is setting a new benchmark for clocking technology and the reproduction of digital audio by uniquely combining an audiophile USB interface with an audio re-clocker in perfection! Particularly designed for the demands of high-end consumer audio, the device expands a new sonic universe with increased musicality, clarity, and precision. As such, the MC-3+USB will prove its worth in many audiophile listening rooms around the world. Improved, next-generation re-clocking and 1G-Clock technology by MUTEC. Audiophile, asynchronous two-channel USB interface with ultra-low noise audio clock oscillators and total galvanic isolation for suppression of high-frequency interferences. Effective power supply filtering through lowest-noise, multiple-stage voltage supplies.
Regenerates and audibly improves the audio quality of USB PCM audio and DSD/DoP streams as well as connected devices. Offers uniquely externally referenced re-clocking, locked to Rubidium-/Cesium atomic clocks or GPS receivers. Serves as a flexible digital input switching matrix, audio format converter and master clock. Compatible to Apple Macintosh and Windows PCs.
Intuitive user interface and easy installation. Available with black- or clear aluminum front panel. Converts DSD/DoP streams (64-256) to PCM audio with selectable output clock rate. Transfers USB audio streams into AES3 and S/P-DIF and outputs those to five digital audio formats simultaneously.
Converts between USB PCM audio, USB DSD/DoP audio, AES3 and S/P-DIF, as well as between AES11 and Word Clock. Highly compatible USB audio class 2.0 driver for Windows supporting ASIO, MME, DirectSound, WASAPI, Kernel Streaming, PCM 16Bit, 24Bit, 32Bit and Float-32Bit at all clock rates between 44.1kHzand 192.0kHz. Ultra-low jitter Word Clock generation with clock rates up to 1,536.0 kHz.
Scalable to FS1x512 clock rates, 22,5792 MHz & 24,576 MHz, for e. Locks to Rubidium- (10 MHz), Cesium- (5 MHz) and GPS clock references.
Generates Word Clocks, Super Clocks, AES3 + S/P-DIF blanks simultaneously. Uninterruptable, fail-safe clock generation in all operation modes. Eliminates so-called digital "clicks and pops". Individual lock indicators for the clock or audio reference and the re-clock reference. USB, AES/EBU, AES/EBUid and S/P-DIF interfaces in one box.
S/P-DIF interconnections via BNC, RCA and optical interfaces available as in- and outputs. Front panel lock-out for preventing of misuse. Colors availble: Black 8015-103 or Aluminum 8015-102. 1 x USB2.0 interface, bi-directional usable. 1 x BNC input for Word Clock + 1-10MHz, 75 ohms termination switchable, unbalanced.
1 x XLR input for AES3/11, 110 ohms terminated, transformer balanced. 1 x BNC input for S/P-DIF + AES3id, 75 ohms terminated, unbalanced. 1 x Optical input for S/P-DIF, Toshiba ToslinkTM, EIAJ RC-5720. 1 x Cinch input (coaxial) for S/P-DIF, 75 ohms terminated, unbalanced.
4 x BNC outputs for Word Clock, terminated, unbalanced, individually buffered, adjustable in pairs. 1 x XLR output for AES3/11, terminated, transformer balanced, buffered. 1 x BNC output for AES3id, 75 ohms terminated, unbalanced. 1 x BNC output for S/P-DIF, 75 ohms terminated, unbalanced. 1 x Cinch (coaxial) output for S/P-DIF, terminated, unbalanced, buffered.
1 x Optical output for S/P-DIF, Toshiba ToslinkTM, EIAJ RC-5720. Frequency Synthesis and Basis Clock Generation.
MUTECs proprietary, ultra-low jitter 1G-Clock technology based on highest-clocked DDS process. Digitally-compensated basis clock accuracy of. Operating temperature 0°C to +50°C. Type: Internal switching power supply.
Input Voltage: 90V 260V (automatic adjustment), 47Hz 440Hz. Cover size / material / color: 196 x 42 x 156mm without connectors and case feet (W x H x D), 1mm steel sheet, black powder-coated. Front panel size / material / surface / color: 198 x 44 x 4mm (W x H x D), aluminium, anodized incl. Anodic printing or silk screening, aluminium- or black-colored. 1 x MC-3+ Smart Clock USB black color (8015-103) or aluminum color (8015-102). 2 x BNC-BNC cable 50 Ohm. The item "Mutec MC-3+ USB Audio Re-Clocke/USB Interface/lowest Jitter Master Clock" is in sale since Thursday, February 25, 2021. This item is in the category "Sound & Vision\DVD, Blu-ray & Home Cinema\Other Home Cinema". The seller is "4ok4ok" and is located in London. This item can be shipped worldwide.
Brand: Mutec
Custom Bundle: No
Modified Item: No
Model: MC-3+ USB
Manufacturer warranty: None
EAN: Does not apply
Type: Video Test Signal generators
Country/Region of Manufacture: Germany
MPN: MC-3+ USB