MOTU 24Ai USB/AVB Ethernet audio interface (USED)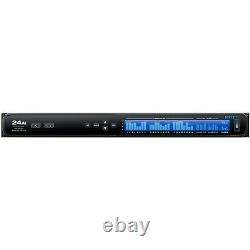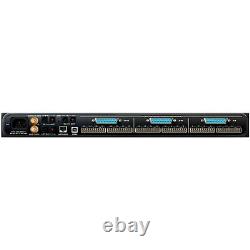 Top professionals use MOTU hardware and software every day on hit songs, primetime shows and blockbuster films. The 24Ai is the next interface in their prestigious lineup, offering 24 analog channels in one rack space, AVB audio networking, and large console style mixing with 48 channels and 12 stereo busses to help you achieve the best sound possible. The 24Ai offers 24 balanced analog inputs in a single rack space with three 8-channel ADAT optical banks, for a total of 72 channels (24 analog plus 48 optical). Use the 24Ai to add analog inputs to your computer, or as a flexible optical expander and mixer. All analog I/O is supplied on multi-channel DB-245 D-sub connectors and Phoenix connectors for convenient, flexible wiring into studio and industrial installations alike. Ultra-Low I/O Latency Every digital audio workflow introduces some latency. The only question is, how much? In the case of the 24Ai, the answer is not much at all. In the 24Ai, latency is measured in a handful of samples, from the time an audio single first goes digital to its arrival somewhere like an output, the mixer, or the computer. By keeping latency this low in the hardware, the 24Ai helps minimize latency introduced by your host software. Audio-Class Compliant USB 2.0 Hi-speed USB 2.0 provides across-the-board compatibility with pretty much all laptops and desktops.
Since USB 2.0 devices are compatible with USB 3.0-equipped hosts, your 24Ai interface is a future-proof investment in you studio. 48-Channel Digital Mixing The 24Ai is equipped with a 48-channel digital mixer designed just like a large format mixing console. The 48 inputs can take signal from anywhere: the physical inputs on the 24Ai interface itself, audio channels from the host software on your computer, audio networking streams, or even mixer outputs. The mixer provides seven stereo aux busses, 3 groups, a reverb bus that can alternately serve as a 4th group, a Main Mix bus and a separate Monitor bus that can serve as a solo bus. In essence: comprehensive and transparent mixing.
Modeled Analog EQ and Compression British analog mixing consoles are renowned for their musical EQ profiles. The 24Ai meticulously models these classic EQs to give you the very same, magical EQ response found on these coveted desks. Each input channel also provides a classic compressor module with optional peak/RMS operation.
Groups and the Main Mix bus are equipped with MOTU's Leveler, an accurate model of the legendary Teletronix LA-2A optical leveling amplifier, known for its unique and highly sought-after Automatic Gain Control (AGC) characteristics. Sources can be analog or digital inputs on the interface, computer channels, mixer bus outputs, or audio network streams from other devices on the network. Destinations include interface outputs, host software inputs, mixer inputs, or any other device (or computer) on the AVB network. You can even split any single input (or stereo pair) to unlimited multiple output destinations.
System Expansion and Audio Networking Build a network with multiple interfaces and computers using standard ABB switches and networking cable, with ultra-low network latency, even over long cable runs. Stream hundreds of audio channels among devices and computers on the network. In a nutshell, AVB audio networking gives you two important benefits: one, flexible control of your entire audio system from any web host on the same network - even Wi-Fi devices like an iPad or iPhone, and two, endless possibilities for expanding your system or constructing a customized installation. Same analog design as MOTU's groundbreaking 1248, 8M and 16A audio interfaces. 24 high-quality, balanced analog inputs.
48 digital channels on three banks of 8-channel ADAT optical. Connects to a computer with standard AVB Ethernet or audio class compliant high-speed USB 2. On-board DSP with mixing and effects.
Stand-alone mixing with wireless control. Includes AudioDesk workstation software for Mac and Windows.
44.1, 48, 88.2, 96, 176.4, 192 kHz. 3x DB-25 D-sub and 6x 12-pin Phoenix. Max level: +24 dBu (digitally adjustable -96 to +22). 3 banks (24 ch) of ADAT optical at 1x sample rates. 3 banks (12 ch) of SMUX optical at 2x sample rates. 24 analog + 48 digital (72 total) at 1x rates. 24 analog + 24 digital (48 total) at 2x rates. 24 analog + 0 digital (24 total) at 4x rates. 1 x USB 2.0 audio class compliant.
USB 3.0 and iOS compatible. 1 x AVB Ethernet (requires OS X Yosemite). 1 x word clock in. 1 x word clock out. 5 x switches ¢ menu navigation.
324 x 24 pixel LCD for level meters / menu nav. 1 x AC power switch. 50-60 Hz ¢ 0.5A max. 1 GHz Intel-based Mac or faster. 2 GB RAM; 4 GB or more recommended.
Mac OS X version 10.8 or later. Available high-speed USB 2.0 or AVB Ethernet port. A large hard drive (at least 500 GB for recording). AVB Ethernet audio interface operation requires OS X Yosemite.
Windows support is coming soon¦. 1 GHz Pentium-based PC compatible or faster. Available high-speed USB 2.0 port. The item "MOTU 24Ai USB/AVB Ethernet audio interface (USED)" is in sale since Thursday, July 15, 2021. This item is in the category "Musical Instruments & Gear\Pro Audio Equipment\Audio/MIDI Interfaces". The seller is "stryfe01" and is located in Clementon, New Jersey. This item can be shipped worldwide.
Brand: MOTU
Type: USB Audio Interface
Number of Channels: 24
Input/Output Ports: Analog In
Number of Line Inputs: 24