Home Recording Bundle with Presonus & Pro Tools First Mackie Audiobox 96K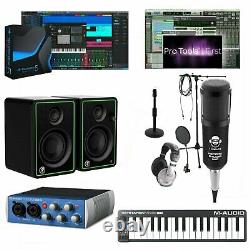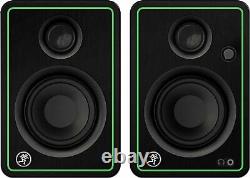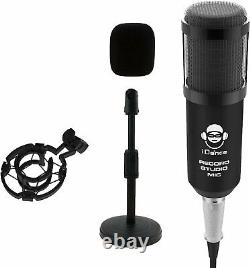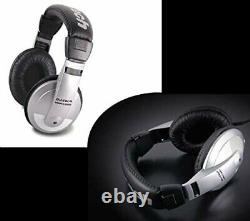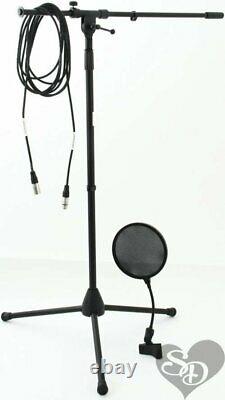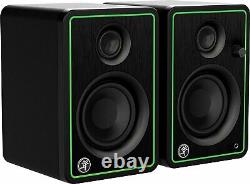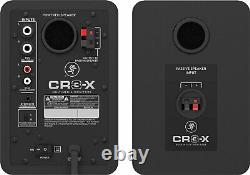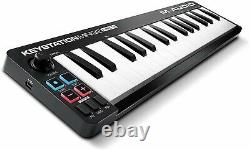 Now Available The Big Bang Recording Bundle! AudioBox USB 96 + Mackie CR3-X Studio Monitors Complete Bundle Jam Packed With Great Product For Your Studio!
AudioBox USB 96 2.2 USB 2.0 Recording System. DJ Tech HPM1200 Multi-Purpose Headphones. Mackie CR3-X Active Studio Monitors.
Professional ABS Composite Shock Mount. 6 INCH BLACK POP SCREEN WITH GOOSENECK. M-Audio Keystation Mini 32 MK3. PreSonus Software Library Bundle Included! Studio One Artist Creative Music Production Environment. Presonus Studio One 5 Prime. PreSonus AudioBox USB 96 2x2 USB Audio Interface. Whether you are a musician, producer, or podcaster on a tight budget, the AudioBox USB 96 is for you! This simple, handy little recording interface has just the right features for basic recording needs, allowing you to plug in and start recording up to 24-bit, 96 kHz audio right away. Bus-powered and built to travel, the AudioBox USB 96 makes recording easy. The two front-panel combo mic/instrument inputs make it ideal for singer/songwriters, podcasters, and guitar or guitar-bass collaborations. Simply connect a couple of mics and you have an easy-to-use stereo recording system.
A mix control lets you control the level between the input signal and computer playback, without hearing annoying delays. You also get a pair of balanced line-level outputs, an ultra-loud, crystal-clear headphone out, plus MIDI I/O, so you can connect your favorite synth or MIDI controller.
The result is a simple, affordable, mobile recording solution. 2 dual-purpose front-panel input channels, each with high-quality mic preamplifiers. Individual channel-trim controls with 0 to +35 dBu mic gain range.
48V phantom power for condenser microphones. Mixer control (blends the input signal with the computer playback stream for zero-latency monitoring). Headphone jack with level control. LED clip indicator for each channel.
1 USB 2.0 port. 2 combo XLR/¼ mic/instrument inputs. 2 balanced ¼ main (L/R) line outputs. 1 stereo ¼ headphone output. 24-bit resolution and 44.1, 48, 88.2, and 96 kHz sampling rate.
Professional-grade A/D/A converters (+105 dBu dynamic range). Zero-latency monitoring via internal mixer.
Compatible with most Mac® and Windows® recording software. 1/3U rack-mountable (with optional 3UMR rack-mounting system).
Road-rugged construction with all-metal chassis and metal knobs. Weighs just 5 lbs (2.3 kg). Powered via USB bus-no wall wart! Wide frequency: the response makes it a perfect microphone for recording voices, acoustic guitars, acoustic pianos and even strings, since the capacitor can take an accurate snapshot and capture all the subtleties and nuances inherent in these instruments. Excellent in both voices and instruments. Low noise level: with a high signal-to-noise ratio (SNR), which ensures that the recording process is less distorted, the exclusive 3-layer security system eliminates unwanted pop noises, providing singers with a smooth vocal sound without sound.
Sensitive capture: the microphone has a thin diaphragm or material "capsule" that vibrates and sends a signal when activated and hit by sound waves at the output, providing an extremely accurate and very precise representation of what is being played. Plug and Play: you can easily connect the microphone to your device without additional driver software and without the need for an external sound card. The double shielding of the USB cable eliminates interference. This makes it easy for a podcast, live stream, video call or most other types of recording sound good.
Improve the quality of vocal recording: the podcast microphone gives you a clear and plosivity-free vocal output with a double-layer acoustic filter and windproof foam cover to prevent it from breaking. All you need for Professional Broadcasting and Recording. 1x Studio Vocal Cardioid Condenser Microphone. High Quality audio circuit design Plug and Play, Record, Broadcast and more. Dimensions (unit is on tripod stand):11.5 cm/4.52 inches WIDE x 33 cm/ 13 inches HEIGHT.
Net weight: 1.6 lbs (0.75 kgs for the 5 pcs unit). Mackie CR-X Series, 3-Inch Multimedia Monitors with Professional Studio-Quality Sound - Pair. CR Series Creative Reference Multimedia Monitors offer studio-quality sound with cosmetics that compliment any desk whether you're making music, creating content, or just relaxing to your favorite tunes. The sleek design of CR-X features a brushed metal panel and a distinct outline that stands out.
Available in a vast range of sizes from 3" to 8" with Bluetooth option plus an 8 subwoofer with Bluetooth, CR-X has the perfect match for your needs. Upgrade your listening experience with Mackie CR-X Creative Reference Multimedia Monitors. CR3-X 3 monitors feature a sleek design with a brushed-metal panel and distinct outline.
Convenient front panel headphone out and volume control make daily use easy. Flexible rear panel inputs include balanced 1/4" TRS, 1/8" Stereo, and RCA. High-quality cables are included in the box to get you up and running quickly. Upgrade your listening experience with Mackie CR3-X monitors. Mackie knows studio monitors, and every bit of that experience was poured into the CR-X Series.
Excellent sound, affordable, and sleek looks make these perfect for small home recording studios. Looking to make it big on the internet? You bring the talent, we've got the gear.
What better place to start than your audio. An accurate representation of what your videos, podcasts, and more will sound like is crucial to creating great content. 1/8 to stereo RCA cable. Speaker wire (for connecting main speaker to the other).
Flexible Inputs - 1/4", RCA, 1/8". 50 watts of clean, articulate stereo sound.
The HPM1200 is the best budget headphones for all purpose, including mixing a recording, monitoring a bass line or just enjoying an MP3. It delivers you a wide frequency response & high dynamic range. The HPM1200 headphones provide incredible performance for a price well within any budget. The HPM1200 provides everything you need for comfortable listening.
The oval-shaped ear cups contain high-resolution capsules that deliver every nuance of your sound. It has a single-sided cord to avoid tangling, a comfortable headband, & a 1/4-in adapter for the 1/8-in connector, making it compatible w/everything from your MP3 player to your mixing console.
Sensitivity: 96 dB at 1 kHz. Cord length: 2.0 m. Connector: 1/8-in TRS Stereo Jack plus 1/4-in TRS Adaptor. Presonus Studio One 5 Prime Recording Software.
Studio One 5 Professional - along with every single Studio One Add-on, the complete collection of PreSonus plug-ins, and dozens of inspiring content libraries - is now included with your PreSonus Sphere membership. Get it all at an amazingly affordable price. Create your own music and podcasts as intuitively as possible with a single-window, drag-and-drop workflow that will make you wonder why you put up with other software that isn't designed the same way. Studio One Prime is designed to keep you in the creative flow by providing powerful tools that help you when you need them-and stay out of your way when you don't.
You'll supercharge your creativity with its unlimited tracks, buses and a powerful complement of virtual instruments and native effects that sound just as good (and frequently, better) than third-party effects. Guitarists will love the new third-generation Ampire tech that has the most realistic amp and cabinet simulations we've ever made. Fans of EDM and hip-hop will appreciate Studio One's Pattern Editor, which allows for intuitive drum and melody composition via a familiar drum-machine inspired UI, which might be just about the most fun and rewarding music-creation technique out there.
Only Studio One 5 Prime lets you truly create without boundaries-for free. And when you're ready for more features, we make it easy to move up to Studio One Artist, Studio One Professional, or get it all with PreSonus Sphere. Right from the Upgrade button in Studio One Prime. Record, produce, and mix easily, all from a single, intuitive application.
Intuitive single-window work environment with quick and easy drag-and-drop functionality and multi-touch support. Unlimited audio and instrument tracks, virtual instruments, and FX channels.
Powerful Presence XT virtual sample-player for keyboard and synth sounds. Patterns allow for intuitive drum and melody composition via familiar drum machine/step-sequencer style UI. Completely redesigned Native Effects plug-in suite. Poly Pressure/ MPE support for advanced MIDI controllers. Over 2 GB of bundled loop and musical content to inspire you from day one.
Studio One 5 is only supported on 64-Bit operating systems. MacOS® 10.13 or higher (64-bit only). Intel® CoreTM i3 processor or better.
4 GB RAM minimum (8 GB or more recommended). Internet connection (needed for installation and activation). Monitor with 1366 x 768 resolution (Retina display recommended).
A multi-touch enabled monitor with TUIO support is required for touch operation. Intel® CoreTM i3 / AMD A10 processor or better. Monitor with 1366 x 768 resolution (high-dpi monitor recommended). A multi-touch enabled monitor is required for touch operation. Studio One is a completely modern professional environment for music recording, mixing, mastering, sharing, and collaboration.
It's Internet-savvy and provides a complete solution, combining the features you really need with the ease of use you always dreamed of. This suite of plug-ins adds a wealth of fresh virtual instruments and effects to Studio One. Cherry-picked from the first names in virtual instruments and effects, each plug-in brings a different flavor of practical magic to your songs.
These plug-ins aren't gimmicky one-trick ponies - these are real-deal workhorses that you'll rely on for countless mixes. Whether you're a seasoned pro looking for just the right controller when you're on the go or you're looking to get started with the right mini USB MIDI controller, the Keystation Mini 32 MK3 is for you!
It's a simple, powerful MIDI controller designed for sequencing music and playing virtual instruments on your Mac or PC. Keystation Mini 32 MK3 features 32 natural-feeling mini-size velocity-sensitive keys and comprehensive controls that expand the range of playable notes and enhance your expressive possibilities. With Keystation Mini 32 MK3, maximizing your creativity while minimizing the complication is easy.
Use the fully-assignable octave range buttons, volume knob and dedicated pitch-bend and modulation buttons to play and perform with your music software. Keystation Mini 32 MK3 also features a sustain button for genuine piano sustain. Lightweight and mobile, Keystation Mini 32 MK3 is perfect for traveling musicians who want to take command of music software during live performances or for producers who want to add an easy-to-use MIDI controller with a small footprint to their studio.
For a simple portable setup, Keystation Mini 32 is USB-powered, class-compliant and supports USB-MIDI connectivity. Pro Tools is the industry standard for recording software and the teams at M-Audio and AVID have crafted a version of this terrific collection specifically tailored for M-Audio hardware. This amazing audio and MIDI recording software helps inspire any artist, musician or singer-songwriter to create, record and share all their ideas across the world at any time.
This truly amazing software recording package is primed to get your ideas out of your imagination and amplified into the world. 2 is a multitimbral workstation offering four active sound slots, or parts, per patch.
Each part is provided with its own MIDI channel, Note Range (Zone), Mix, Arpeggiation, Modulation, and Effects settings-an excellent method for creating individual parts. Harnessing the four parts together to build one amazing Patch is where Xpand! 2 reveals its true power. Using everything from wavetables and FM synthesis to sample playback, the expert sound design team at Air Music Tech has carefully created thousands of ready-to-play Xpand!
32 low-profile, velocity-sensitive mini keys. Selectable velocity curves match any playing style. Pitch bend and modulation buttons add expression. Octave up and down buttons for extended keyboard range.
Volume knob delivers smooth control. Edit Mode button provides access to advanced functions. USB power and data offer single-cable convivence. Includes AIR Music Tech Xpand! Dimensions: 16.46" x 4.13" x 0.78 418 x 105 x 198 mm. Weight: 1 lb (0.45kg). MacOS: Intel® Mac with Mac OS X 10.11 2GB RAM (4GB Recommended). PC: PC with Windows 7 (Service Pack 1); Intel Core 2 Duo 2 GHz Processor; 2GB RAM (4GB Recommended). Com/support for current software system requirements. Pro Tools First FREE DOWNLOAD! Want to make great sounding music? Start off right using many of the same tools the pros use-absolutely free. Pro Tools' First is simple enough for beginners, yet sophisticated for experienced musicians, enabling you to quickly compose, record, edit, and mix music. Entry to the industry's most trusted audio workstation has never been easier.
Play and practice your heart out. Pro Tools' First is a great place to hang out, play, and practice your favorite instrument or improve your vocal abilities. Just connect your mic, keyboard, guitar, or other instrument to your computer-either directly or using a USB audio interface or cable adapter. Choose from a selection of session templates , which provide preloaded instrument tracks, and start creating a song in a variety of music genres, including EDM, rock, pop, jazz, and hip-hop.
Whether you sing, play an instrument, or simply want to make some noise, Pro Tools' First makes it easy to quickly turn the ideas in your head into fully realized songs. Record up to 16 audio tracks , either one at a time through your computer's audio input, or up to four inputs simultaneously using a USB audio interface, making it easy to capture your vocal and guitar, multiple vocalists, or quick-n-dirty band jam session. Use loop recording to capture multiple takes of a performance, so you can nail that perfect guitar solo or let your spontaneity rule.
Create musical parts with virtual instruments (VIs), plug-in software that generates instrument sounds on your computer-anything from beats and loops, to guitars, bass, and more cowbell. Music synthesizer , you have an incredible range of instruments at your fingertips-from acoustic pianos, strings, brass, percussion, and woodwinds, to electronic synths, guitars, drums, basses, sound effects, and more. Use the MIDI Editor to write and edit notes, perfect virtual instrument performances, and modify how loud and soft notes play to give your music more dynamics and emotion across up to 16 instrument and 16 MIDI tracks.
With Elastic Pitch and Elastic Time, you can make bum notes sound pitch perfect and fix timing inconsistencies-without sounding like a chipmunk... Whether you want to perfect your musical masterpiece, create a remix, or clean up audio tracks, Pro Tools' First comes with over 20 effects, sound processors, and utility plug-ins to get you started. Shape sounds, warm up tones, give tracks greater presence, and optimize your mix with EQ III and Dynamics III, two plug-in suites that are coveted in top recording studios worldwide.
Bring atmosphere and texture to your tracks and mix , from creating spacious halls or intimate rooms with D-Verb, to generating long delay loops or punchy arpeggios with Mod Delay III. Want more virtual instruments, effects, or even guitar stompbox modelers? Visit the in-app Marketplace and discover a world of super affordable plug-ins that make creating and enhancing sounds quick and easy. Forget having to lug your laptop or USB drive around.
Pro Tools' First saves projects securely in the cloud, enabling you to work on your music practically anywhere. Pro Tools' First will support the upcoming Avid Cloud Collaboration for Pro Tools features, so get ready to connect and collaborate with other musicians, producers, engineers, and mixers-anywhere in the world-as if you're all working together in the same studio. THIS BUNDLE IS IN LIMITED SUPPLY! GRAB YOURS TODAY AND START RECORDING LIKE A PRO! Thank you for shopping with us!
The item "Home Recording Bundle with Presonus & Pro Tools First Mackie Audiobox 96K" is in sale since Wednesday, June 19, 2019. This item is in the category "Musical Instruments & Gear\Pro Audio Equipment\Audio/MIDI Interfaces".
The seller is "*sweetheartdeals*" and is located in Spencer, Massachusetts. This item can be shipped to United States, Canada, United Kingdom, Denmark, Romania, Slovakia, Bulgaria, Czech republic, Finland, Hungary, Latvia, Lithuania, Malta, Estonia, Australia, Greece, Portugal, Cyprus, Slovenia, Japan, China, Sweden, South Korea, Indonesia, Taiwan, South africa, Thailand, Belgium, France, Hong Kong, Ireland, Netherlands, Poland, Spain, Italy, Germany, Austria, Bahamas, Israel, Mexico, New Zealand, Philippines, Singapore, Switzerland, Norway, Saudi arabia, Ukraine, United arab emirates, Qatar, Kuwait, Bahrain, Croatia, Malaysia, Brazil, Chile, Colombia, Costa rica, Panama, Trinidad and tobago, Antigua and barbuda, Aruba, Belize, Dominica, Grenada, Saint kitts and nevis, Saint lucia, Montserrat, Turks and caicos islands, Barbados, Bangladesh, Bermuda, Brunei darussalam, Bolivia, Ecuador, Egypt, French guiana, Guernsey, Gibraltar, Guadeloupe, Iceland, Jersey, Jordan, Cambodia, Cayman islands, Liechtenstein, Sri lanka, Luxembourg, Monaco, Macao, Martinique, Maldives, Nicaragua, Oman, Peru, Pakistan, Paraguay, Reunion, Viet nam, Uruguay.
Type: USB Audio Interface
Non-Domestic Product: Yes
Modified Item: No
Custom Bundle: Yes
MPN: AUDIOBOXUSB96
Brand: PreSonus
Form Factor: Portable
Features: Phantom Power
Model: AUDIOBOX USB 96