Freqport Freqtube FT-1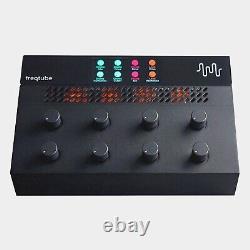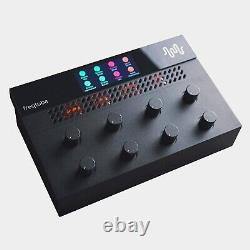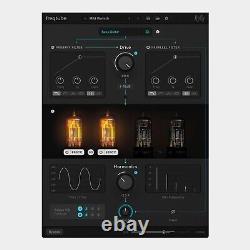 Only used a handful of times, downsizing studio, see description. The Freqport FT-1 Freqtube Multi-Instance Analog Hardware Processor is a revolutionary tube-based hardware unit that enables you to run plug-ins through real analog components, seamlessly integrating them into your favorite DAW. Freqtube's multi-instance analog plug-ins create a brand new category of products that merge the warmth of analog sound with the convenience of digital, streamlining your workflow.
Freqtube is the child of collaboration between Australian and Danish specialists, representing the culmination of audio technology innovation. The platform offers a solution to the mathematical equations that generate and process audio, which can make audio sound flat and dull. With Freqport, you get all of the benefits of real analog processing without any of the hassles or limitations that come with connecting and using traditional analog equipment. The Freqtube couldn't be easier to use. Just plug it in with a single USB cable, power up, open the interface, and start tweaking.
You can even save, store and recall Freqtube settings inside your DAW, and return to your project later with no hassle, as the setups remain unchanged between sessions! Freqtube also features assignable knobs, enabling you to touch and feel the creative process. Freqtube also includes a multi-instance powerhouse VST, AU, and AAX plug-in with a perfect virtual representation of the hardware that operates with up to two stereo, or four mono, plug-in instances. The ultra-low-jitter audio synchronization between host and hardware ensures bit-perfect audio, while the internal, professional-grade 32-bit audio converters running up to 192 kHz provide transparent audio translation. With Freqtube, you can bring real analog processors into your mix while keeping all the benefits of digital control. The multiple analog processing circuits allow more than one audio signal to be processed at the same time within your digital workflow, something that is impossible with single-circuit analog processors. A solid, all-metal enclosure, with discrete analog tube circuits including drive and overdrive controls.
Individual dry-wet mixing per channel, in the analog domain and controllable harmonics on each tube, allow the adjustment of even or odd harmonic characteristics. Internal low-noise, high-voltage generation circuits optimize the tube operating range. Eight hardware, multi-mode digital filters are further customizable for maximum sonic flexibility. Assign filters, gain, harmonics, analog mixm, automate parameters and more with via the Freqtube plug-in.
Color display allows maximum flexibility and visualization of controls. Plug-in formats: VST3, AU, AAX. Mojave 10.14 to Monterey 12 on 64-bit Apple OS and 64-bit Hardware. CPU Apple Silicon or Intel. Core Audio based audio interface (Internal or External) for Digital Audio Workstation (DAW) main audio output. 2GB RAM available on top of DAW requirements. 100MB disk space for the software installation.
USB port on the computer for direct connection. 1280x800 (or higher) display resolution.
Windows 10 (Build 1909 and later) and Windows 11, 64-bit OS. CPU Intel Core i5 (or higher) processor or an AMD Ryzen 5 (or higher) multi-core processor with minimum 4-cores and minimum 2Ghz processor speed. ASIO based audio interface for DAW main audio output. 1366x768 (or higher) display resolution. Ableton Live 10 (or higher) 64-bit.
Bitwig Studio 4 (or higher) 64-bit (plug-in hosting mode set to: Within Bitwig). Cubase 11 (or higher) 64-bit.
Logic Pro X (or higher) 64-bit. Other DAWs may work but have not been officially tested and therefore not officially supported. Freqtube is a real-time hardware based plug-in and as such off-line rendering cannot be used in your DAW project.
This may be different from your usual workflow. Before using any real-time plug-in, and before using freqtube, its important that your system can playback your DAW projects in real-time without any dropouts.
Freqport system runs separately to the main audio I/O used in the DAW. Use a Core Audio or ASIO audio interface that can run your DAW project at low latency (512 samples or lower) without audio dropouts before using freqtube.
Freqport system uses under 100MB RAM however it is highly recommended to have memory overhead for any real-time audio project.