Focusrite Clarett+ 2Pre USB Audio Interface (NEW)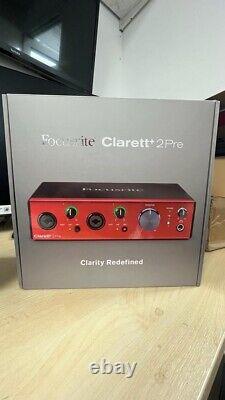 Equally comfortable in the studio or as part of a mobile rig, the. Desktop 10x4 USB Type-C audio/MIDI interface combines upgraded 24-bit / 192 kHz AD/DA conversion with low-latency monitoring and two Air-enabled microphone preamps that can model the sound of the company's classic ISA preamps. With low noise (-129 dB EIN), massive dynamic range, and even less distortion than before, the high-performance mic preamps deliver a clean, open, and transparent sound, for accurate reproduction of the original performance. In addition to the two mic/line/instrument inputs, the interface offers an optical port for digital input expansion (via ADAT or S/PDIF) and MIDI I/O for integration of MIDI equipment such as a keyboard or drum machine. Four line-level outputs and a stereo headphone out let you properly hook up monitors, headphones, and more.
The Clarett+ 2Pre includes a software package featuring Focusrite Red plug-ins and a channel strip that accurately models the rare Focusrite Studio Console. Also provided is the Focusrite Control software that enables you to configure routing and monitor mixes from Mac and Windows computers, or iPad, iPhone, and iPod touch mobile devices. Independent A/D and D/A converters bring you closer than ever to your music and let you hear the truth, whether you're in the studio or on the road. Greatly improved D/A dynamic range enables you to hear every detail and have greater control over your mix.
Lower A/D converter distortion lets you capture signals with more clarity, for greater transparency and sonic accuracy. Great for Expanding Home Studios. With its desk-friendly size, USB Type-C connectivity (USB Type-C and Type-A cables are included), expandable inputs via ADAT, and AC or bus powering, the Clarett+ 2Pre is well suited for home studios that need extra I/O without sacrificing a bunch of table space.
Capture more detail than ever before: The carefully engineered design means Clarett+ 2Pre gives you stunning results. At a class-leading 124 dB dynamic range, the ultralow-noise 24-bit / 192 kHz converters give your recordings clarity and nuance. Capture clear and powerful recordings with preamps that bring masses of headroom, low distortion, and ultralow noise. Phantom power is switchable per channel, so you can use dynamic or condenser microphones as you desire. Premium, relay-controlled analog circuitry on every preamp emulates the classic Focusrite ISA 110 by switching the impedance to 2.2 kilohms and adding two cumulative high shelves, totaling a 4 dB boost in the high frequencies. Dedicated, ultrahigh-impedance JFET instrument inputs, with extremely wide audio bandwidth, mimic guitar amp inputs to preserve the natural tone of guitars and capture their true character. At the press of a button in the control software, each 1/4 input can be used for line-level sources (like a mixer's stereo output or the line outs from guitar and bass amps) or for direct connection of instruments such as electric guitar and bass, synthesizers, or drum machines-no need for DI boxes. Straightforward Controls and Level Indication.
The Clarett+ 2Pre's independent gain knobs and bicolor gain halo meters mean that you'll have no trouble setting up and dialing in the perfect levels. Independent Headphone and Line Outputs.
There are four balanced 1/4 TRS line outputs on the rear panel: The first two are configurable to function as monitor outputs or traditional line-level outs. To allow critical listening through headphones, there is a front-panel 1/4 headphone jack fed by a powerful and tonally linear headphone amp. Separate knobs are provided for quick and independent adjustment of the monitor and headphone volumes.
Spin the Clarett+ 2Pre around, and you'll find traditional 5-pin MIDI I/O ports, perfect for hooking up a MIDI keyboard controller, a synthesizer/workstation, or a sound module, for MIDI recording, editing, and sequencing. In addition to having flexible analog inputs and outputs, the Clarett+ 2Pre offers a TOSLINK optical input, which can accept an 8-channel ADAT input at up to 48 kHz (four channels at 88.2 / 96 kHz) or a stereo S/PDIF source. Connect any external microphone preamp equipped with an ADAT or S/PDIF output to this optical input to record additional microphones.
The Clarett+ 2Pre includes an external power supply to ensure its proper operation. Alternatively, the interface can be bus powered when connected to a 15W USB Type-C port. Route your audio, cue mix, loopback, and monitor mixes from your Mac or Windows computer via the Focusrite Control desktop software. Tap into even more convenience by using the Focusrite Control iOS app on your iPad, iPhone, or iPod touch to remotely control your Clarett+ 2Pre when connected to Focusrite Control Desktop.
All the Tools You Need to Start Recording. The Clarett line of interfaces comes with some of the best loved software tools in the business. To see the complete list.