Black Lion Audio Revolution 2x2 USB Audio Interface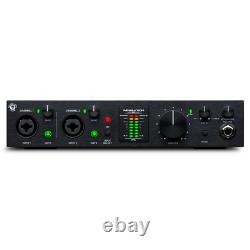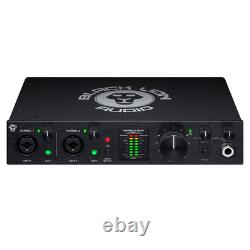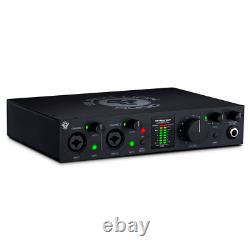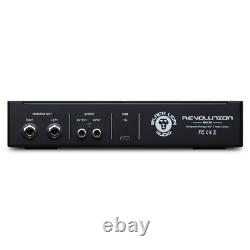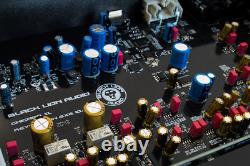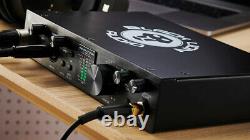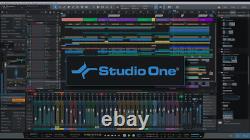 Black Lion Audio Revolution 2x2 USB Audio Interface. 2-in/2-out USB Audio Interface with Pro-grade Converters, Macro-MMC Clocking Technology.
Stereo Output, S/PDIF I/O, and 1 Headphone Output. USB 2 Channel Portable Recording Interface - Modded Out Of The Box! Revolution 2×2 is built with the most cutting edge, high-end ICs.
High-end Vishay, Nichicon, and Wima capacitors are used throughout the entire circuit. All internal gain-staging has been optimized for the very lowest signal-to-noise ratio. All of the analog I/O has not only been built with the finest components, but are fully decoupled and balanced - right to the very core of the convertor!
Most manufacturers do not follow this practice, and that allows extra noise contamination during both capture and playback. Professional-grade Sound in an Affordable, Portable Interface.
The engineers at Black Lion Audio cut their teeth modding popular digital audio interfaces, upgrading their converters, and clocking. Suffice to say, they have intimate knowledge of what separates a good audio interface from a great one.
The Revolution 2x2 USB Audio interface perfectly represents Black Lion Audio's expertise, discriminating standards, and steadfast commitment to delivering affordable high-quality studio tools. This 2-in/2-out interface packs two channels of premium preamplification, stunning converters, and professional-grade clocking into a budget-friendly, portable package. Plus, it comes with download codes for PreSonus Studio One Artist and a stellar software plug-in collection from iZotope, Brainworx BX, and Lindell Audio. Get your hands on the Black Lion Audio Revolution 2x2 USB audio interface today, and enjoy top-notch sound at a knockout price! The Black Lion Audio Revolution 2x2 features professional-grade analog circuitry for capturing superior sound at the source. Two exceptional front-panel preamps boast combi inputs for plugging in your favorite microphones, line-level devices and drum machines, and electric guitars and bass, along with phantom power. Featuring fully decoupled inputs and outputs (a feature typically reserved for high-end equipment), Vishay, Nichicon and Wima capacitors, premium ICs, and noise-reducing PG-i technology.
Black Lion Audio's finest clocking conversion technology. One of the perennial debates among studio gearheads is whether or not the quality of an interface's converters and clocking makes a difference when it comes to what you hear. Better conversion and clocking mean better sound, and the Revolution 2x2 boasts some of the finest clocking and conversion available at its price point and beyond.
Leveraging Black Line Audio's cutting-edge Macro-MMC Clocking technology and bespoke AD/DA conversion, the Revolution 2x2 provides a level of professional studio performance previously unavailable in an interface this portable and affordable. Includes PreSonus Studio One Artist and Revolution plug-in suite. To get you started creating right out of the box, the Revolution 2x2 includes PreSonus Studio One Artist, a powerful DAW designed for use as a standard recording and mixing platform, and as a creative tool for composition, arrangement, and sound design. USB interface with professional-grade AD/DA conversion and clocking. 2 premium mic/line/instrument preamps offer exceptional audio capture. Stereo monitor outputs and headphone output. Fully decoupled I/O and noise reducing PG-i technology. Includes PreSonus Studio One Artist and plug-ins from iZotope, Brainworx BX, and Lindell Audio. 24bit, 192KHz USB C interface. Analog circuit design utilizing Nichicon, Vishay and Wima capacitors. Izotope Elements Suite including Nectar, Neutron, Ozone and RX. Input Impedance = 3KO (balanced). Frequency Response = 20Hz - 20KHz +/- 0.25dB. Dynamic Range = 116dB (A-Weighted). Input Impedance = 14KO (balanced). Dynamic Range = 126dB (A-Weighted). Output Impedance = 95O (balanced). Max Output Level = 12dBu. Input Impedance = 1MO (unbalanced).
Dynamic Range = 103dB (A-Weighted). Output Impedance = 2.5O. Maximum Signal Output = 9.3dBu. Frequency Response = 20Hz - 20KHz +/- 0.5dB. Dynamic range is affected by BLA preference to tuning invidual stages for tonality.
We found that the best sounding parts in the output path weren't necessarily the lowest noise components but they resulted in an optimal tone and signal purity that is instantly apparent to the listener. Electronic design is a game of compromise and we're confident your ears will agree with our choices. Test method: Source files were fed from each unit's analog outputs 1/2 and recorded back in using the same unit's analog inputs 1/2.
This captures both the D/A and A/D characteristics of each interface. Careful attention was paid to level match files as close as possible. Three products were used on all songs below in this test method (Competitor A, Competitor B and Revolution 2×2). "Gone Fishin'" by Mojo Mark C. "It's A New Day Special" by The Jeffreys.
"Love Me Baby" by Mary Lane. "Stain" by LoneWolf Featuring Chin Chilla Meek. "Through Heaven's Eyes" by DEC3. This item is in the category "Musical Instruments & Gear\Pro Audio Equipment\Audio/MIDI Interfaces". The seller is "avl-america" and is located in this country: US. This item can be shipped worldwide.
Type: USB Audio Interface
Brand: Black Lion Audio
UPC: 696550587896