ART USB Phono Plus PS Preamp and Audio Interface (NEW)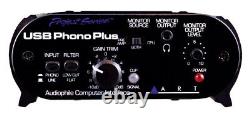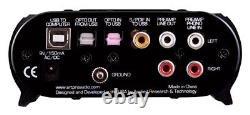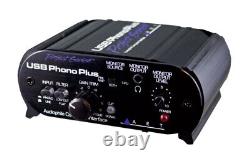 ART USB Phono Plus PS Preamp and Audio Interface (NEW). The ART USBPhonoPlus v2 is the ideal low cost interface solution for transferring any analog or digital audio source, including a turntable into a computer via standard USB connection. ART USB Phono Plus PS Preamp and Audio Interface Main Features. USB Connectivity to Desktop and Laptop Computers.
RIAA Accurate Low Noise Phono Preamp. Up to 45 dB of Clean Gain. S/PDIF or optical to USB and USB to Optical Interfaces Included. Preamp Line Out Allows Use as a Stand-alone Phono Preamp. The Project Series USB Phono Plus PS is also the ideal high performance audio interface between analogue and digital sources.
Built in low-noise RIAA phono pre-amp circuit with low cut filters (to remove rumble and noise) guarantee pristine audio capture. Front mounted gain control and Signal/Clip LED allows easy optimisation of a wide range of analogue input sources. The USB Monitor/headphone provides zero latency monitoring of the input source for easy cueing. The USB PhonoPlusPS can also act as audio playback source for any USB equipped computer or laptop. Optical TOSLINK Input and Output as well as an S/PDIF Input make the USB PhonoPlusPS an ideal analogue / digital audio to USB interface as well. The built-in low noise Phono Preamp circuit is highly accurate and precisely conforms to the RIAA standard. The Line Out jacks are always connected to the input preamp signal for source monitoring or to allow use as a stand-alone phono preamp. Housed in an all aluminium black anodised case, the USB PhonoPlusPS can be powered by either external power supply or directly via USB port. To ensure maximum versatility, the USB PhonoPlusPS is fully compliant with the USB 2.0 specification and uses USB adaptive mode for playback and USB asynchronous mode for record. It will work with Windows 98SE/ME/2000/XP/Vista/7 USB audio device drivers as well as Apple OS9.1/OS-X computers with native USB support.
Listing correct at time of upload errors and omissions excepted. Absolutemusic was set up over ten years ago by a group of passionate audio professionals who wanted to deliver better service and greater savings on music gear than could be found anywhere else.
We've since grown into one of the UK's leading music retailers and we've recently moved into a huge new two-storey superstore boasting three massive guitar display walls and dedicated departments for drums, guitars, DJ, live sound, synths & keyboards, hi-tech and accessories. We also have four guitar booths, two soundproofed drum booths, an in-house Guitar Workshop and a unique monitor-auditioning studio designed by acoustician Andy Munro. Next door is our café and complex of rehearsal and tuition studios available for hire seven days a week, where we also run regular workshops, instrumental lessons, demo events and recording sessions. Soon to be added is a professional recording studio and control room. Every member of our 50-strong absolutemusic team is an experienced musician or engineer who can offer you accurate, expert advice on anything from vintage guitars to the latest software. Join us here soon to see our amazing 14,000-square-foot showroom and 10,000-square-foot studio complex, and to enjoy our regular in-store events. (absolutemusic, Knighton Heath Estate, 855 Ringwood Road, Bournemouth, BH11 8NE). Exceptions may apply to non-mainland destinations, the very north of Scotland and non-UK destinations. Most items are delivered on an overnight service (2-3 days for non-mainland UK and 3-5 days for mainland Europe).
Our store opening hours are. Monday - Saturday: 10.00am - 6.00pm. Please note, our Web team are only in Monday to Friday.