Antelope Audio Zen Tour Synergy Core Interface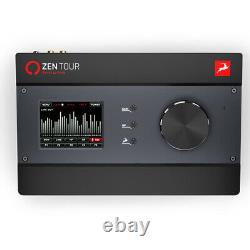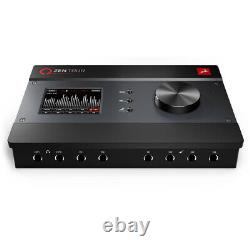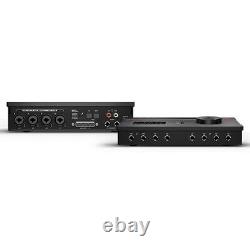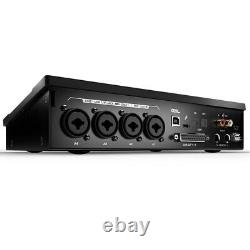 Antelope Audio Zen Tour Synergy Core Interface. At Music Store Live we're all musicians like you, and we know how hard it can be to afford all the gear that you want and need. We encourage you to make us an offer. Often times, you'll be pleasantly surprised! We'll do everything we can to help get that next piece of gear into your hands. 36 Synergy Core FX Included. Giving your projects a flying start, Zen Tour Synergy Core includes a compelling library of 36 meticulously modeled real-time studio effects. It's all happening inside your audio interface with the lowest possible latency - thanks to FPGA's massive parallel computing capabilities, DSP processing, and fast ThunderboltT connectivity. The included library can be expanded to include any effects you choose from our web store. Built from the ground-up for the Synergy Core platform, Auto-Tune Synergy adds live pitch correction to the Antelope Audio experience. Industry-leading pitch correction anytime you need it - live, during recording, and at mixdown. Fully adjustable Retune Speed, Flex-Tune, and Humanize parameters with Auto-Key automatic key and scale detection.
Real-time, low latency performance with the Edge Go modeling microphone and any Antelope Audio Synergy Core interface. Classic' mode pays homage to the legendary "Auto-Tune 5 sound" heard on countless hit records. Zen Tour Synergy Core offers a choice of 4 Instrument/Line inputs, 4 Mic/Line Ins, 8 Line Outs, 2 Monitor Outs, 2 Headphone Outs and 2 Re-Amp Outs, totalling 8 analog inputs and 14 outputs. The unit is digitally expandable over ADAT & SPDIF for an additional 10 digital input and 10 output channels. Additionally, all line outputs are DC-Coupled and ready for control voltage (CV) applications such as control of modular synthesizers.
As a final touch, an integrated Talkback microphone lets you demo vocals and propel your voice to the live room. The pioneer of atomic clocking in pro audio, Antelope Audio incorporates 20+ years of expertise in its audio interfaces.
Our proprietary 64-bit Acoustically Focused Clocking technology & Jitter Management algorithm helps deliver the kind of artifact-free audio once accessible only to the most prestigious studios. Record and monitor with maxed-out effects chains at high sample rates and low buffer sizes without taxing your CPU! You can enjoy Latency-Free Direct Monitoring over 4 independent internal mixers with 32 assignable inputs and stereo outputs.
Zen Tour Synergy Core has modern touchscreen controls giving immediate access to metering, level controls, presets and settings. The intuitive interface and precise tactile control facilitate fast, efficient work at all times, without staring at a monitor. Zen Tour Synergy Core is our desktop-sized answer to professional rackmount equipment.
With it, all you need to make great recordings in your project studio, rehearsal space, or on the road is power, a decent laptop, and reliable headphones. The Synergy Core architecture lets you run processing-heavy projects without carrying external equipment like DSP accelerators, FX processors, and authorization dongles. Built inside the software Control Panel, a comprehensive Routing Matrix houses a full-fledged digital patch bay to freely route audio between the interface's analog and digital inputs and outputs. Run DAW playback through Synergy Core FX, re-amp guitar DIs through the Shred Guitar Amps & Cabs, and integrate external equipment.
With all'training wheels' removed, your workflow can be as esoteric as you want it to be. IMMEDIATE ACCESS TO ANY PARAMETER. COLOR-CODED ROUTING MATRIX WITH USER LABELS AND UNDO/REDO. FOUR 32-CHANNEL, LOW-LATENCY SOFTWARE MIXERS.
SAVE AND LOAD CUSTOM PRESETS. Whether your weapon of choice is PC or Mac, Zen Tour Synergy Core carries both Thunderbolt 3 (Type-C) and USB 2.0 (Type-B) ports for cross-platform compatibility with Mac and Windows machines. Hand-assembled in Europe from high quality materials (steel and anodized aluminum), Zen Tour Synergy Core withstands the demands of your studio desktop, road rig and practice space. With updated converters and Antelope's signature 4th-generation clocking, Zen Tour Synergy Core offers pristine AD/DA conversion for artifact-free recording and critical listening with a best-in-class dynamic range of up to 130dB (measured at the monitor outputs).
The sound quality rivals that of professional rackmount studio interfaces, which occupy additional space and may cost times as much. The Zen Tour Synergy Core's purpose-built preamps and Accusonic 3D modeling engine lets you transform the Antelope Audio Edge and Verge modeling microphones into expensive-sounding vintage replicas.
Shape the final sound with complete control over proximity effect and change polar patterns during or after recording. Choose from a collection of classic and rare microphones as you monitor and record live, bringing out the musician's finest performance.
4x DSP + 2x FPGA Synergy Core FX Processing. 14x18 Analog & Digital I/O. ThunderboltT 3 & USB 2.0 Connectivity. 64-bit Acoustically Focused Clocking & Jitter Management algorithms.
2 Individual Stereo headphone outputs. ADAT & SPDIF digital I/O.
8 Line outputs on DB25 connector (DC-Coupled). Intuitive touchscreen control & software Control Panel with flexible signal routing. 4x Instrument/Line inputs on TRS Jacks.
4x Mic/Line inputs on TRS/XLR Combo Jacks. 8x Line Outputs on DB25 (TASCAM Standard 25-pin Layout). 2x Monitor Outputs on TRS Jacks.
2x Headphone Outputs on TRS Jacks. 2x Transformer-based Reamp Outputs on TRS Jacks. All line outputs are DC-Coupled and support CV applications such as controlling modular synthesizers. 44.1/48 kHz - 8 inputs / 8 outputs.
88.2/96 kHz - 4 inputs / 4 outputs. 176.4/192 kHz - 2 inputs / 2 outputs. 44.1 to 192 kHz - 2 inputs / 2 outputs. USB 2.0 - Type B Connector.
(Up to 24 audio channels). HunderboltT 3 - Type C Connector. 44.1, 48, 88.2, 96, 176.4, 192. 4th Generation Acoustically Focused Clocking & Jitter Management. 1.6 kg/ 3.5 lbs.
Width: 255 mm / 10.0. Height: 62 mm / 2.4. Depth: 168 mm /6.6.
At Music Store Live, our goal is to revolutionize the way gear is bought online. Its not just about videos and know how; its about the person on the other end of the line. We're musicians just like you. We strive to offer the best gear with the best online experience, and the best personalized service in the industry.
The item "Antelope Audio Zen Tour Synergy Core Interface" is in sale since Wednesday, April 1, 2020. This item is in the category "Musical Instruments & Gear\Pro Audio Equipment\Audio/MIDI Interfaces". The seller is "musicstorelive" and is located in National City, California.
This item can be shipped worldwide.
Brand: Antelope
MPN: ZTSC