Solisto Pro 4205 Becker Porsche Navi Radio PCM1 USB iPod iPhone 3 4 4S Interface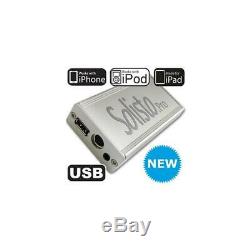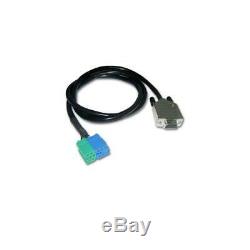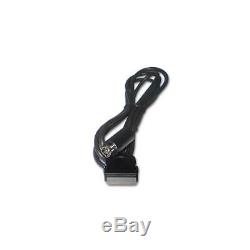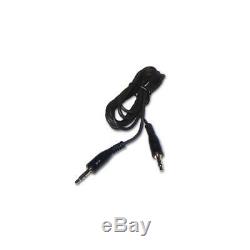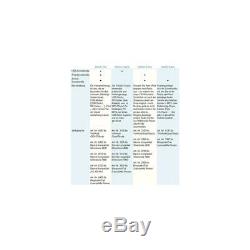 DVD / DVB-T / Multimedia. IPod / iPhone / USB-Interface. Solisto Pro 4205 - iPhone / iPod / iPad / USB / AUX-In Interface für Becker/Porsche. Für den Audio-Ausgang von CD-Playern, Laptops, Multimedia-Playern usw.
Gibt es einen Audioeingang mit Mini-Klinkenstecker. Die USB-Schnittstelle erlaubt die Nutzung herkömmlicher, kostengünstiger Speichermedien wie z.
USB-Sticks, USB-MP3-Player, USB Festplatten (HDD) oder SD-Karten (über einen optionalen Adapter). Die spezielle Schnittstelle für iPhone/iPad/iPod ermöglicht die Ansteuerung verschiedenster Ausführungen direkt über das Radio oder Navi. Dabei wird dem Radio bei Nutzung der USB- oder iPhone/iPad/iPod-Schnittstelle ein CD-Wechsler mit bis zu 6 bzw. 10 CDs simuliert, wobei jede der virtuellen CDs bis zu 99 Songs enthalten kann. Durch die exakte Nachbildung des Verhaltens eines Original-CD-Wechslers wird dabei einfachste Bedienung erreicht.
Das Kabel zum Anschluss eines iPhone/iPad/iPods an den Solisto gehört zum Lieferumfang. Made in Germany - entwickelt und produziert in Deutschland.
Nur 5,5cm x 2,4cm x 10,4cm klein. USB-Schnittstelle zum Anschluss von USB Geräten. Unterstützung vieler Funktionen, wie Suchlauf etc. Titelreihenfolge in Ordnern komfortabel wählbar (PC-Software).
Zusätzlich werden Playlisten im Format M3U unterstützt - für mehr Flexibilität! Als besonderes Feature bietet die USB-Schnittstelle des Solisto zusätzlich auch Unterstützung für Playlisten im M3U-Format, wie sie zahlreiche kostenlose PC-Programme erstellen können.
Damit wird die Verwaltung und Sortierung von Musik auf dem USB-Stick noch leistungsfähiger und komfortabler. Talk Over-Funktion zu Integraion von Navis! Erkennt der Aux-In ein Audio-Signal so wird von der USB-Schnittstelle oder vom iPhone/iPad/iPod abgespielte Musik stummgeschaltet, der Ton vom Aux-In an die Auto-Lautsprecher weitergeleitet und anschließend wieder die Musik wiedergegeben - optimal für den Anschluss mobiler Navis, deren zumeist eher leisen Lautsprecher nicht mehr von der Musik übertönt werden. Technische Daten / Technical Data. Steuerung iPhone/iPad/iPod, Audio iPhone/iPad/iPod, Ladestrom für iPhone/iPad/iPod.
594 (6 mal 99 Songs) bei VW/Audi/Seat/Skoda. Bis zu 990 (10 mal 99 Songs) je nach Modell. USB 1.1 oder USB 2.0.
FAT 16 oder FAT 32. 1 A (SO-101/102: 0,5 - 1 A SO-103/104 - 1A).
MPEG1, Audio Layer 3 (MP3). 48; 44,1; 32; 24; 22,5; 16; 12; 11,025; 8 KHz. Solisto USB Einbaubuchse KFZ mit 200 cm Anschlusskabel.
Spezifisches Anschlusskabel 1m mit Doppel-Mini-ISO-Stecker. Audio-Kabel Mini-Klinke 3,5mm auf Mini-Klinke 3,5mm; Länge ca. 2G + 3G + 3GS + 4 + 4S. 1A maximaler Strom / max. DVD- / MP3- / CD- / MD- Player / Laptop /..
7910, 7912, 7913, 7915, 7918. 2230, 2237, 7990, 7992, 7993, 7994, 7995. 7920, 7922, 7923, 7925, 7850, 7852, 7853, 7855. 4625, 4627, 7930, 7932, 7933, 7935, 7936, 7937, 7938, 7939. 2130, 7885, 7886, 7887, 7889.
4720, 4723, 4725 (ab/from Firmware 6.0), 4745. 7820, 7822, 7823, 7824, 7825.
PCM1 (8 / 16 Bit). CR-11, CR-21, CR-22, CR-220, CR-31.
CDR-21, CDR-22, CDR-32, CDR-210, CDR-220. Mit Becker Mini-ISO-Stecker / with Becker Mini-ISO-jack. The mini-jack-socket allows the use of cd-player, multimedia-player or laptop. The USB-interface allows the use of conventional and cost-saving storage media like USB-sticks,, USB-MP3-Player, USB hard drives (HDD) or SD cards (via an optional adapter) with original car radios. The special interface for iPhone/iPad/iPod gives you the opportunity to operate an iPhone/iPad/iPod like a cd-changer.
With the help of the iPhone/iPad/iPod the Solisto simulates a cd-changer with up to 6 resp. 10 virtual cd´s with 99 songs each at the cd-changer-interface of the radio. The Solisto supplies power to the iPhone/iPad/iPod and charges the battery during use. Made in Germany - developed and produced in Germany.
5.5 cm x 2.4 cm x 10.4 cm folded only. USB-Interface to connect USB Devices.
Support many functions, such as search, etc. Title sequence conveniently selectable in folders (PC software). Direct control (except for AUX-IN). In addition playlists in the M3U format are supported - for more flexibility! As a special feature, the USB interface of the Solisto additionally includes support for playlists in the M3U format, how to create a lot of free computer programs.
To manage and sort music on USB flash drive becomes even more powerful and more comfortable. Talk Over-Funktion for integraion of Navis! If the Aux-in recognizes an audio signal the music played from iPhone/iPad/iPod or the USB port will be muted, the sound from the aux-in to the car speakers passed and then the music plays again - ideal for connecting mobile navigation devices, which usually rather quiet Speakers are no longer drowned out by music. Special iPhone/iPad/iPod plug (mini-DIN 8-pin). Control iPhone/iPad/iPod, audio iPhone/iPad/iPod, charge current for iPhone/iPad/iPod battery. 594 (6 times 99 tracks) on VW/Audi/Seat/Skoda car stereos. 990 (up to 990 dependingon the model of the car stereo). USB specification 2.0 - female connector, form A.
USB 1.1 or USB 2.0. FAT 16 or FAT 32.
(tested up to 450 MB). 990 (up to 990 depending on the model of the car stereo). Solisto USB-panel jack car 200 cm cable.
Specific Cable kit 1m cable with double mini-ISO plug. Audio cable mini-jack-socket 3.5mm (1/8") to mini-jack-socket 3.5mm (1/8") approx 1.2 meters long.
2019-05-12 07:15 - 200708195173. Auf Wunsch informieren wir Sie gerne über neue Angebote & Trends.
The item "Solisto Pro 4205 Becker Porsche Navi Radio PCM1 USB iPod iPhone 3 4 4S Interface" is in sale since Tuesday, January 31, 2012. This item is in the category "Auto & Motorrad\ Teile\Autoelektronik, GPS & Sicherheitstechnik\Autoentertainment\Autoradios".
The seller is "www*kolumbus24*com" and is located in Leipzig / Germany. This item can be shipped worldwide.
Marke: Solisto
Hersteller: Solisto
Herstellernummer: 4205B01