Radial USB-PRO Stereo USB Laptop Computer Digital DI Direct Box Audio Interface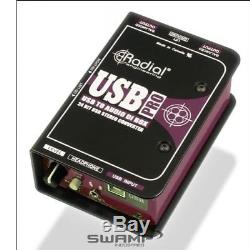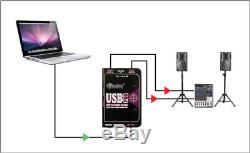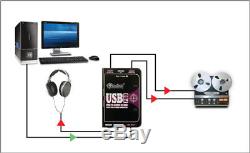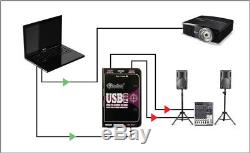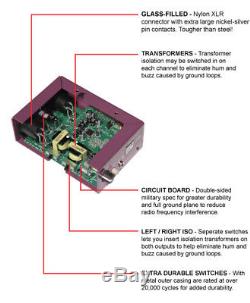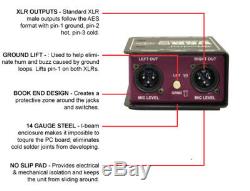 Radial USB-PRO Stereo USB - Computer Digital DI Box - Audio Interface. The Radial USB-Pro is a high-resolution stereo direct box designed to convert sound files from a laptop computer and seamlessly transfer them to a pair of balanced audio outputs to feed a PA, recording or broadcast mixing console. The USB-Pro started as a simple digital to analog converter for professional audio engineers.... Plug and Play Made to be plug & play easy to use, the USB-Pro automatically configures itself for use with all popular operating systems including Mac OSX, Windows XP, Vista and Windows 7, thus eliminating the need to load special drivers. Connection from the laptop is done via the'pro-audio standard' USB type-B port.
Headphone Monitoring, Mono-Sum and Ground Lift. Digital-to-analog conversion is monitored with the built-in headphone amplifier to ensure the signal is being properly downloaded and converted. A mono-sum switch may be engaged to check for phasing or facilitate signal distribution to two outputs should this be preferred.
One simply sets the output volume control to suit. Should hum or buzz caused by ground loops be encountered, two'set & forget' side-access switches let you insert isolation transformers into the signal path to block stray DC voltage offsets. To further reduce susceptibility to noise, this is augmented with a ground lift switch that lifts pin-1 on the two XLRs.
24-Bit 96kHZ Digital to Analog Converter. As a USB direct box, USB-Pro's job is to convert a digital audio file to a pair of XLR outputs. Keep in mind that a direct box is supposed to be mic level so that it can properly live along side microphones and be processed using the same mic splitters, active distribution systems and mixing consoles without causing problems such as crosstalk or distortion. Unlike devices that are limited with 16 bit, 44.1kHz conversion rates, the USB-Pro elevates the performance with true 24 bit, 96kHz stereo converters to deliver more headroom and greater detail.
This eliminates the need for additional sound cards or separate converters when transferring files, further streamlining production in busy work environments. Our unique book-end design creates protective zones around the switches, connectors and controls to keep them out of harm's way. Inside, our time-tested I-beam construction assures the sensitive internal PC board will not torque which could otherwise cause premature part failure. Finally, a full bottom no-slip pad provides mechanical isolation and electrical insulation, further advantaging the user.
High performance 24bit/96k stereo direct box. Automatically installs without the need of a driver. Built-in headphone amplifier for monitoring. Balanced Lo-Z outputs with switchable isolation.
Using the USB-Pro with a laptop. Nothing is simpler than the USB-Pro! You plug it into your laptop and it automatically delivers your digital audio files to spectacular sounding stereo audio via the 24 bit/ 96kHz converters.
You merely connect to the mic inputs on your mixing console and you are set to go! Using the USB-Pro in the studio. Convert your client's files instantly! Simply connect the laptop to the USB-Pro and transfer files to the recording system at the maximum sample rate for best audio fidelity. The built-in headphone amp makes it easy to check for signal integrity.
Using the USB-Pro for a video presentation. Anyone that has incorporated audio with a projector knows that noise can be a serious problem. The USB-Pro is equipped with isolation transformers that may be switched in to eliminate hum and buzz caused by stray DC voltage and ground loops. Custom decoder with analog line drive.
USB 2.0 full speed. 96kHz (44.1kHz / 48kHz auto sensing). WDM, MME, ASIO, CoreAudio and DirectSound. Windows XP/Vista/Win7 and Mac OS.
5Hz 40kHz (30Hz 18kHz with isolation). Specifications are subject to change without notice. Stereo balanced mic level (2 x XLR-M). Variable, works on headphone and XLR outputs.
Sums left & right inputs to mono. Lifts pin-1 on both XLR outputs. USB bus powered 500mA maximum.
14 gauge steel chassis and outer shell, baked enamel finish. 3.3" x 5.0" x 2 (84 x 127 x 48mm). 1.5 lb (680 g). Complies with section 15 of the FCC Rules. For use in dry locations only between 5°C and 40°C. Radial Firefly Tube Active DI Direct Box. Radial ProRMP Reamp ® Passive Studio Guitar Re-Amplifier Reamper. Radial ToneBone PZ-Select Two Channel Instrument Switcher. Radial X-Amp Active Guitar Re-Amplifier. Saramonic SmartRig Smartphone Mic Interface DI Lightning Connector. Saramonic SmartRig UC Smartphone Audio Interface - USB Type C Plug. Sign Up For Store Newsletter Sign Up. Warehouse / Showroom Address Unit 1, 39 Collie St Fyshwick ACT 2609.
The item "Radial USB-PRO Stereo USB Laptop Computer Digital DI Direct Box Audio Interface" is in sale since Saturday, May 2, 2015. This item is in the category "Musical Instruments\Pro Audio\Other Pro Audio". The seller is "swamp-industries" and is located in Fyshwick, Canberra, ACT. This item can be shipped worldwide.
Brand: Radial
MPN: R800 1050 00
Manufacturer Part Number: R800 1050 00