Focusrite SCARLETT 18I20 2nd G USB Audio Interface+Boom+Mic+Headphones+Cables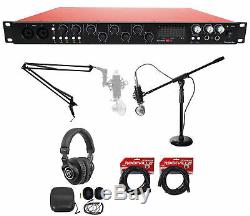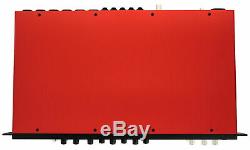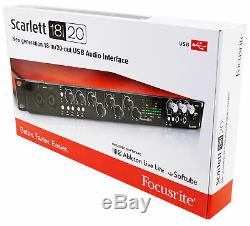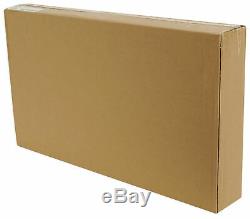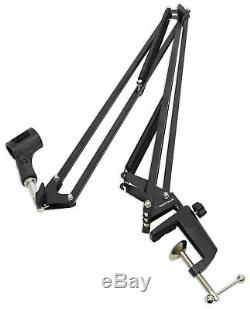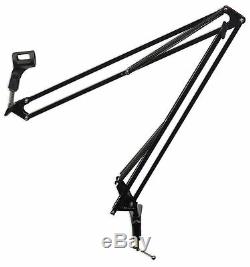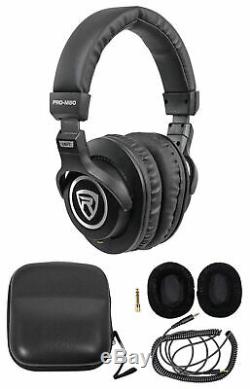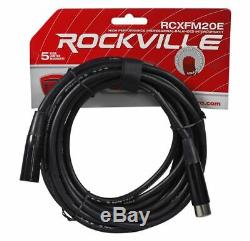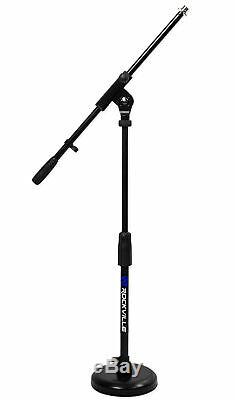 Package: Focusrite SCARLETT 18I20 MK2 192kHz USB 2.0 Audio Interface With Pro Tools First + Rockville DMS40 40 Microphone Boom Arm Studio Podcast USB Mic Stand with Desk Clamp + Rockville RCM03 Pro Studio Recording Condenser Microphone Mic With High Quality Metal Construction and Shock Mount + Rockville PRO-M50 Studio Headphones with Detachable Coil Cable, Case, and Extra Ear Pads + (2) Rockville RCXFM20E-B Black 20 Foot Nickel Plated Female to Male XLR Microphone Cables + Rockville Kick Drum/Guitar Amp Mic Stand With Steel Round Base, Fixed Boom, and Rubber Pad. Condition: BRAND NEW IN ORIGINAL PACKAGING. (1) Focusrite SCARLETT 18I20 2nd G 192kHz USB 2.0 Audio Interface w/ Pro Tools First. (1) Rockville DMS40 40 Microphone Boom Arm Studio Podcast USB Mic Stand+Desk Clamp.
(1) Rockville RCM03 Pro Studio Recording Condenser Microphone Mic+Metal Shock Mount. (1) Rockville PRO-M50 Studio Headphones w/ Detachable Coil Cable, Case+Extra Ear Pad. (2) Rockville RCXFM20E-B 20 Foot Female to Male XLR Mic Cables Black 100% Copper. (1)Rockville Kick Drum/Guitar Amp Mic Stand, Steel Round Base+Fixed Boom+Rubber Pad.
Free bi-monthly plug-ins from Focusrites Plug-In Collective. Compose, record, edi save and export your music straight away, with time-unlimited versions of industry-standard music software. All the software is simple enough for beginners, yet sophisticated enough for advanced users.
Softube's Time and Tone bundle. Novation's Bass Station Virtual synthesiser. Check out this video for more information on the included software.
Scarlett 18i20 works flawlessly with all major DAWs on Mac and PC, and we continue to work with Avid to ensure it is compatible with every update to Pro Tools. New Generation Better In Every Way The latest generation Scarlett 18i20 is packed full of upgrades. It operates at sample rates all the way up to 192kHz with new super-low latency that lets you record and monitor with software effects in real time. We also completely redesigned the instrument inputs so they can handle even the hottest guitar pick-ups, and built in new analogue protection circuitry across the inputs and the outputs, to guard your interface against unwanted power surges.
Handle Anything That Comes Your Way Our latest generation 18-in, 20-out USB audio interface can handle just about anything your band or studio can throw at it. Beautiful and rack mountable, it gives you loads of I/O, pristine sound quality, separate stereo headphone mixes, extensive expansion options and round-trip latency as low as 2.74ms, all in a 1U space. Inputs Your Studio Deserves Scarlett 18i20 puts eight natural-sounding combination inputs at your disposal.
We put two on the front, where you need them most, with newly designed instrument inputs that can handle even the hottest signals. We put six more on the back, so you can leave your mics, synths, keyboards, mixers and effects processors permanently plugged in and ready to go.
If that isnt enough for you, connect an eight-channel mic pre like the Focusrite OctoPre Mk II to the ADAT input for a total of 16 analogue inputs. Add the two channels of digital audio via S/PDIF and 16 channels of MIDI, and you can record just about anything you want. World Famous Preamps All eight analogue inputs feature pristine and natural sounding Scarlett preamps, backed by 30 years of design experience and found in the worlds top studios.
These guarantee exceptional headroom, plenty of clean gain, low noise, minimal distortion and a dynamic range that is unrivalled in this class. Create Separate Monitor Mixes As well as eight balanced analogue line outputs, Scarlett 18i20 gives you two independent stereo headphone outputs so you can give engineer and artist their own separate, fully-customised mixes. Revolutionize Your Workflow An unrivalled round-trip latency as low as 2.74ms completely revolutionises your workflow. You can work entirely inside your DAW for both overdubbing and playback, and use your plugins while recording - depending on your software, settings and computer, of ourse.
Youll also get the best out of vocal performances, by applying real-time comfort reverb to artists' headphones. Designed for Guitarists Weve redesigned Scarlett 18i20's instrument inputs and given them plenty of extra headroom, so you can handle extreme levels without any unwanted clipping or distortion. If youre recording extra loud instruments, you can also engage the 10dB pad in Focusrite Control software.
Intuitive Control Software Scarlett 18i20 works with all major DAWs on Mac and PC, and comes with Focusrite Control: our brand new software mixer designed for easily configuring your monitoring and routing setups. Simple and intuitive to use, it gives you a traditional mixer workflow, separate headphone mixes and immediate access to internal hardware functions.
Easily Set the Perfect Level Clipped signals ruin good takes. That's why we put eight LED bargraph meters on the front panel, to make it as easy as possible to keep an eye on your signal levels. You also get Softube's Time and Tone bundle, the Focusrite Red Plug-In Suite, Novation's Bass Station Virtual synthesiser and 2GB of Loopmasters samples. Of course, Scarlett 18i20 works flawlessly with all major DAWs on Mac and PC.
Ableton Live Lite is included as a free download. 2GB Loopmasters Samples are included as a free download. Free bi-monthly offers from Focusrite Plug-In Collective. Focusrite SCARLETT 18I20 MK2 192kHz USB 2.0 Audio Interface w/ Pro Tools First.
Supported Sample Rates: 44.1 kHz, 48 kHz, 88.2 kHz, 96 kHz, 176.4 kHz, 192 kHz. Supported Operating Systems: Mac OS 10.10 (Yosemite), 10.11 (El Capitan); Windows 7 (64-bit), Windows 8.1, Windows 10. Frequency Response: 20 Hz - 20 kHz +0.5/-1.5 dB.
Dynamic Range: 109 dB (A-Weighted). Maximum input level: +8.5 dBu. Maximum input level: +22 dBu. Maximum input level: +12 dBu. Frequency Response: 20 Hz - 20 kHz ±0.5 dB.
Dynamic Range (Line Outputs): 108 dB (A-Weighted). Maximum Output Level (0 dBFS): +16 dBu. Dynamic Range: 108 dB (A-Weighted). Maximum Output Level: +13 dBu. The Rockville DMS40 desktop microphone boom arm is the perfect accessory for any podcast, home studio setup, or broadcasting studio.
Its rotating design provides a maximum arm reach of 40 giving you freedom to place your mic anywhere you want! Our designers used the most sturdy and long lasting clamps and springs, with durable steel construction. Rockville DMS40 40 Studio Desk Clamp Microphone Stand w/Boom Arm. Suitable for studios, broadcasting, podcasting, and more.
Arms: 20"+20" arm length for adjustment. C-shape desk clamp is made of aluminum alloy. Fits any desk less than 2 inch thick. You can set the base of the stand on the desk firmly and adjust to your favorite position. High quality steel frame is sturdy and durable. Internal springs for silent and effortless positioning. About Rockville Quality Control Procedures. The Rockville brand stands for Quality, Innovation and Value. All Rockville products go through the most rigorous quality control standards in the industry.
Products go through months of extensive testing before they reach your hands. All user functions are tested and all internal components are tested for quality.
Rockville makes products that are virtually un-breakable! Rockville is one of the only brands in its class to test every concept model for weeks or months before starting production. Once production begins, Rockville sends product engineers to their factory to quality control every line of production. During production every product is tested and on top of that Rockville goes the extra mile and has their high level product engineers do an additional quality control.
They test a certain percentage of all products from the production line a second time to ensure that the quality meets their vigorous standards, and to make sure that there is never a batch of products with even a slight problem. This model is similar to our RCM01 however it is made of aluminum, and the frame is slightly larger. We also upgraded this model to a high end metal anti-wind cap! We highly recommend this design. Designed for crystal clear capturing of vocals, acoustic and amplified instruments, as well as room reverb.
The aluminum construction makes the RCM03 tough enough for Live sound applications as well! This microphone can be used in multiple ways. You can connect this to the phantom power of your mixer or you can connect it directly to your computer sound card.
We include a cable to connect it to your mixer as well as a cable to connect the mic to your computer! Quality built inside and out! The microphone is made of aluminum. It is very rugged and tough like you would expect from any Rockville product. This microphone has a large diaphragm which is what enables our mic to deliver a wider range of high and low frequencies than our competitors. Our frequency range is tested at 30HZ 20KHZ! The mic sounds crystal clear sound with no distortion!
The PCB (circuit board) uses surface mounted components which is the same method the expensive brands use. We use only top components that under-go extreme testing by our own audio engineers. The last thing that I need to mention and call out is that our product is very sturdy. When you are recording, you do not want even the slightest noises coming from your mic.
The microphone consists of a casing and there is a cartridge inside the case. You do not want that cartridge moving around. We made sure to adjust our mechanism and ensure the cartridge is firmly in place and not creating any unwanted noises. RCM03 Condenser Microphone made of aluminum! 100% Copper 10 foot XLR to XLR cable to connect to any mixer with phantom power. Rockville RCM03 Pro Studio Recording Condenser Microphone Mic+Metal Shock Mount. Polar Pattern: Internally Polarized Condenser Cardioid Design. Large diaphragm for smooth, natural sound and low noise. Power Requirements: 48V DC phantom power or computer sound card (can connect to the phantom power channel of your mixer or can connect to your laptop or computer). Output impedance: 200±30%(at 1kHz).
Operating voltage range: 1.5V-10V. Current consumption: less than 500uA. Voltage deduction characteristic: within 3dB at 2V. S/N ratio: More than 24dB. Frequency Response: 30Hz - 20 KHz.
Fixed Crossover Filter cutoff frequency: 40Hz---16 KHz. Load impedance: Greater or = to 1000 Ohms. Equivalent Noise level: Less than 18dB A (IEC581-5). Input SPL: 126dB(THD1.0% at 1kHZ). Electrical current: Greater than 4.8Ma.
Microphone body net weight:320 Grams (0.7 Pounds). Diameter 44mm (1.73 inches). Microphone Length 217mm (8.54 inches).
Microphone material: steel grille + Alluminum (handheld part). Soft suede and leather ear cushions (interchangeable).
Leather hard travel protective case. Rockville brings you studio quality headphones and at an incredible price with its new PRO-M50 headphones. These are professional grade headphones that are guaranteed to ourperform headphones that cost triple the price! These feature ergonomically designed swiveling cups with interchangeable soft suede or leather finish cushions (included). The ear cups seal tight for excellent sound isolation and minimal bleed. Inside these cups youll find 40mm Neodymium drivers delivering accurate audio with an extended frequency range for clear and rich bass, and a full frequency range of mids and highs. These are closed back style headphones specifically designed for studio monitoring. These play back the sound with a flat frequency curve so you can hear your music exactly how it was recorded. With the PRO-M50 you can expect to hear every detail of every song with extreme accuracy. These headphones cover full frequency ranges; even extending a bit past the frequencies that the human ear can hear. The headband is made of soft leather, offering ultimate comfort even after extended wear. The beautifully designed stainless steel headband frame and arms are strong and durable.
A detachable 51 coiled 100% Oxygen Free Copper cable with a gold plated 3.5mm plug is included along with a gold plated ¼ adapter to ensure the best possible signal. A hard leather case is included to store and protect your new investment when you are on the go. Amazing sound quality will make these your go-to headphones whether in the studio or out and about! Rockville PRO-M50 Studio Headphones w/ Detachable Coil Cable, Case+Extra Ear Pad.
Ergonomically designed swivel ear cups. Sturdy and durable steel headband and arms. Interchangeable leather and soft suede ear cups covers included. Detachable 51 coil cable made of 100% Oxygen Free Copper (158 fully extended).
Gold plated 3.5mm connector. Stainless steel headband frame and moving arms are durable and long-lasting. Net Weight:290g (with cable). All Rockville pro audio cables are made with 100% copper which boosts the efficiency of the cable. There is nothing better than 100% copper.
Most of the cheaper cables on the market do not use 100% copper, instead they make their cables with CCA (Copper Clad Aluminum). CCA cables do not perform on the level that 100% copper cables perform at. CCA will not conduct signals efficiently. A 12 gauge CCA cable will not even perform as well as a 14 gauge 100% pure copper cable, which will in turn, affect the performance and longevity of your equipment. Rockville pays an inspection company to oversee the manufacturing of the product to ensure that we provide a 100% Oxygen Free Copper Cable (OFC).
Our OFC cables are less prone to oxidation, and will provide maximum signal transfer. The other important factor of a cable is the shielding. Most of the good brands on the market have about 85% shielding coverage, so we decided to take our shielding a step further. Rockville cables are shielded with a tight copper mesh, covering 90% of the cable! The high percentage of coverage increases the ability to absorb the Electromagnetic Interference (EMI) and Radio Frequency Interference (RFI) that suppresses signal and degrades the performance of equipment.
Rockville Cables copper shielding provides great flexibility, maintains a durable structural integrity, while decreasing signal interference ensuring enhanced signal clarity with every use. Rockville RCXFM20E-B Black 20 Foot Nickel Plated Female to Male XLR Microphone Cable. XLR Connectors with Internal Strain Relief for Rugged Reliability. 100% Copper Conductors for Enhanced Signal Clarity. 90% OFC Spiral Shield for Effective EMI and RFI Rejection and Flexibility. The RKDS is a multi-purpose mini mic stand.
The most popular use of these are for kick drum mic stands, but there are so many other amazing uses for these. They really come in handy for any amp or instrument that has to be on the ground. You can use these to mic up a bass drum, kick drum, snare, guitar amp, or bass amp.
(Certain bass players prefer to have a mic). These are also perfect for floor stage mics, as a desk mic, or for use on the dais table at parties and corporate events. Additional uses are for a stand-up bass, or for saxophone players (sitting). There is so many ways these little stands come in handy. Our stand weighs twice as much as others on the market because these are super-sturdy and solid.
The RKDS has a 10.2 Steel Round Base with a rubber pad that eliminates unwanted noises. It has a 21.4 fixed boom arm that provides precise positioning for your mic. The stand adjusts from 18.7 to 28.7. This bad-boy Weighs in at 6.6lbs! There is no better stand in its class at this price guaranteed!
And we topped it off with a scratch-resistant powder coated finish so the stand looks beautiful for life! This uses a standard thread size of 5/8inch. Rockville Kick Drum/Guitar Amp Mic Stand With Steel Round Base, Fixed Boom and Rubber Pad. Low profile height adjustable microphone stand for kick drums and guitar amps. Heavy-duty steel round base with rubber pad provide extreme stability.
Fixed boom arm provides precise positioning. Booming length : 21.4 (54.5cm).
Height adjustment : 18.7"- 28.7" (47.5cm 73cm). Base Diameter : 10.2 (26cm). Weight : 6.6 lbs (3 kgs). Best prices - We sell all Samson Products at great prices.
Lifetime Customer Service by Samson product experts. Guaranteed legitimate and authentic merchandise. If your item is defective or you want to return it for any reason within the first 30 days of when it was delivered to you; you have the following options. We will send you a. To replace the item for a brand new one.
All replacements and exchanges are free. This includes blown speakers with burned voice coils. The item "Focusrite SCARLETT 18I20 2nd G USB Audio Interface+Boom+Mic+Headphones+Cables" is in sale since Sunday, January 28, 2018. This item is in the category "Musical Instruments & Gear\Pro Audio Equipment\Stands, Mounts & Holders". The seller is "audiosavings" and is located in Inwood, New York. This item can be shipped to United States, Canada, United Kingdom, Denmark, Romania, Slovakia, Bulgaria, Czech republic, Finland, Hungary, Latvia, Lithuania, Malta, Estonia, Australia, Greece, Portugal, Cyprus, Slovenia, Japan, China, Sweden, South Korea, Indonesia, Taiwan, South africa, Thailand, Belgium, France, Hong Kong, Ireland, Netherlands, Poland, Spain, Italy, Germany, Austria, Bahamas, Israel, Mexico, New Zealand, Singapore, Switzerland, Norway, Saudi arabia, Ukraine, United arab emirates, Qatar, Kuwait, Bahrain, Croatia, Malaysia, Brazil, Chile, Colombia, Costa rica, Panama, Trinidad and tobago, Guatemala, Honduras, Jamaica, Barbados, Bermuda, Bolivia, Ecuador, Egypt, Gibraltar, Guadeloupe, Iceland, Jordan, Cambodia, Cayman islands, Sri lanka, Luxembourg, Martinique, Maldives, Nicaragua, Oman, Peru, Pakistan, Paraguay, Reunion, Viet nam, Uruguay.
Brand: Focusrite
MPN: SCARLETT-18I20-2ND-GE+DMS40+RCM03 PACK
UPC: 613815901570
Interface Type: Line/Audio Interface
Mic/Line Input: Mic/Preamp XLR, Line XLR
Model: SCARLETT-18I20-2ND-GE+DMS40+RCM03 PACK
Additional Inputs/Outputs: AES/EBU XLR In
Max. Number of Channels: 18
Max. Sampling Rate: 24 Bit (192kHz)
Features: Software Included
Form Factor: Rack Mountable
Inputs/Outputs: MIDI I/O
Type: USB Audio Interface
Country/Region of Manufacture: China