Behringer X Air X18 Digital Mixer Usb/wireless Audio Interface Daw Controller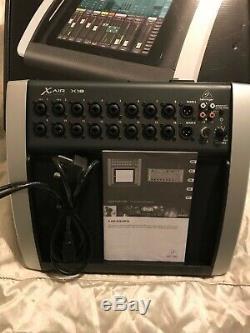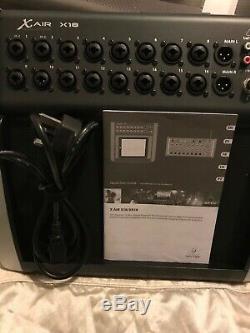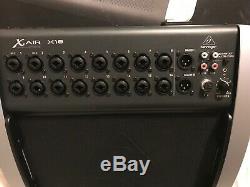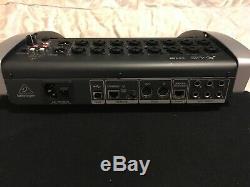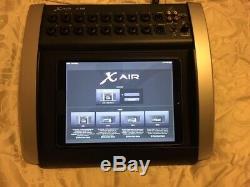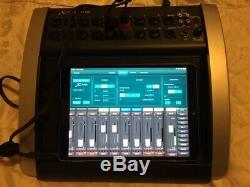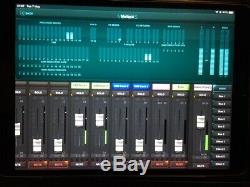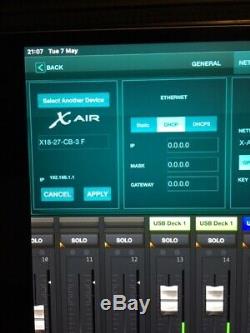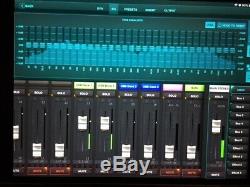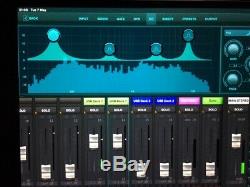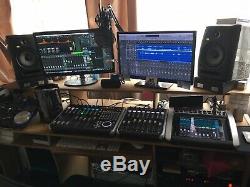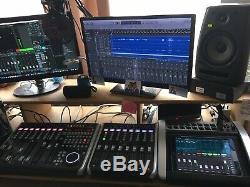 For sale is my used Behringer X Air X18 Digital 18 Channel Mixer Audio Interface DAW Controller. Designed by the legendary MIDAS digital mixer specialist in conjunction with Klark Technique you have one of the best mobile wireless mixers daw controllers. This portable mixer easily mixes and records live performances to front of house speakers or records 18 channels to all major DAW software including, Protools, Prologic, Cubase, Atherton etc. Great for studio use again via analogue or usb input/ outputs again with any DAW for example Protools, Logic Pro, Cubase, Fruit of the Loom, Ableton etc. Fitted with many of the classic X32 features and all its effects you have a scaled down 18 input model for Bands, houses of worship, PAs and DJ use. Control this mixer audio interface controller via your computer, iPad, tablets etc with the free X Air software. For those who enjoy the hands-on experience then add the additional Behringer X Touch/ or X Touch Extender Universal Control Surface as shown for full multichannel touch control (Not included). Comes with its original box, manual and a C14 5-amp fused power lead. Behringer X AIR X18 a 12-Bus Digital Mixer to be controlled by either your Pcs, Apple Macs, iPads, Android Tablets, iPhone etc. Can be controlled individually from all these devices or in combination with them all. An 18-Channel, 12-Bus Digital Mixer for all the above with 16 Programmable MIDAS Preamps, Integrated Wi-Fi Module and Multi-Channel USB Audio Interface.
The BEHRINGER X32 completely changed the game by rethinking what is possible from a digital mixer - and over 100,000 users are enjoying the results. Behringer's cutting-edge X Air digital mixers integrate with your Mac, Pcs iPad or Android tablet etc - and even your smartphone - for unprecedented mixing power and mobility. Plug in your mic and line level sources and mix from anywhere in the venue or studio via the free remote-control app. Route wirelessly or via Ultranet individual or combination monitors mixes allowing each musician full control of the allocated monitor channels. Connect up to 16 linked new TURBOSOUND IQ Speakers without the need for XLR cables allow full digital sound routing.
Route any channel to any speaker via the ethernet cable or daisy chain link. The X18 is an 18-input mixing unit with 16 gain-programmable Midas-designed microphone preamps, Behringer's renowned X32 effects rack, a 100-band Real Time Analyzer on all channels and bus EQs, an 18 x 18 USB interface, integrated Wi-Fi, a convenient tray for your tablet or small laptop, and more.
Just add mics, and you have everything you need to mix a live show and record pristine multitrack studio sessions straight to your DAW. The Behringer X18 gives you a whole new way to mix. IPad/Android tablet controlled 18-input digital mixer for studio and live applications.
16 award-winning MIDAS-designed, fully programmable mic preamps for audiophile sound quality. Award-winning X32 effects rack featuring 4 stereo FX slots including high-end simulations such as Lexicon 480L and PCM70, EMT250 and Quantec QRS etc. Revolutionary Dugan-style Auto-Mixing automatically manages microphone gain sharing (future firmware). Free iOS, Android and PC/Mac/ Linux apps available for remote operation via Ethernet, LAN or Wi-Fi. Behringer XAIR X18 Digital Mixer.
The X18 is a powerhouse 18 input/12 bus digital mixer that also serves as the launch pad for your favourite computer tablet -- including iPad and Android tablets. It is ideally suited for both live and studio applications, thanks to its 16 award-winning MIDAS-designed mic preamps, convenient integrated Wi-Fi module for wireless control -- and a lightning-fast, bidirectional USB Audio Interface. The freedom to move around and manipulate all parameters of your mix with the free iOS, Android and PC apps lets you dial in the perfect sound from anywhere in the venue -- or the tracking room!
Advanced engineering and meticulous design deliver stellar sonic performance at an extremely affordable price -- changing the game once again. MIDAS -- The Legend in Sound Quality.
Ever since its formation in the 1970s, MIDAS has had a long history of innovation and leadership in the world of audio mixing consoles. Employed by the most famous touring acts and installations worldwide, legendary MIDAS consoles such as the XL4 and Heritage H3000 quickly became industry standards.
MIDAS has earned their impeccable reputation due to their no-compromise approach for audio and build quality and in particular for their award-winning Mic Preamps which are considered by industry experts as the industry's best sounding designs. Building on this legacy, the XL8 and PRO Series of Live Mixing Systems continue this great heritage of award-winning audio quality. Behringer is proud to incorporate MIDAS designed mic preamps for the ultimate in high quality audio reproduction in both live and studio environments. Find out more about MIDAS-- amazing legacy by visiting their extensive website. Designed for the ultimate in mobility, the X18 comes with an integrated Wi-Fi module for direct control of your mixer's functions -- without the need to setup and configure an external router. The X18 gives you the freedom to focus on your mix, while allowing you to move about the venue to experience what every part of the audience is hearing.
Plus, you can adjust live monitor wedges from the artist's perspective -- or better yet, let them mix their own IEMs and floor monitors via their own tablets. Access Point is the easiest way to connect up to 4 clients directly and concurrently i. IPad, Android smartphone/tablet or laptop. This mode should have your remote control up and running in less than a minute. Wi-Fi Client allows you to add your mixer to the existing wireless network where the controlling apps and devices are connected.
Alternately, wired connections can be made directly to your PC, to a local area network (LAN), or when connecting to a dedicated Wi-Fi router, e. For extended range or 5 GHz applications. The incredibly fast and comprehensive 18 x 18 channel, bi-directional USB interface makes the X18 an amazingly powerful digital mixing solution for recording directly to your Mac or PC etc. Dial in the perfect monitoring mix with effects and zero-latency, while sending up to 16 microphone signals -- and the keyboard player's MIDI notes to your DAW for recording. 4 Onboard X32 Effects Engines. Equipped with the very same FX engines as the now legendary X32 Digital Mixing Console, the Onboard virtual FX Rack provides access to four true-stereo (8 mono), multi-effects processors including delay, chorus, dynamics -- plus the X18 can run production-quality, true-stereo reverbs concurrently with 31-band EQ on the main and aux buses, all without the need for any additional hardware.
You can select any combination of high-end simulations of legendary studio effects, such as the Lexicon 480L and PCM70, as well as the EMT250 and Quantec QRS reverbs. Onboard processing means your computer doesn't have to do the heavy lifting during a mixing session with DAW plugins as the X18 has a whole studio of FX under its hood.
Custom-designed, and physically modelled after some of the most iconic and sough after processors, all effects run inside the low-latency environment of the X18 mix engine, ensuring flawless performance, flexible routing and the end of cable faults forever! 100-Band RTA for all Channel/ Bus EQ's. The X18 includes a high-resolution 100-band Real Time Analyzer (RTA), with full Bar and Spectrograph views.
This high-resolution RTA displays the audio energy distribution in 100 frequency bands over time -- capturing a sonogram window of a full 10 seconds. Switch between the Large RTA view, displaying any available signal in full screen resolution, or the Combined RTA view shown above each of the channel and bus EQ curves -- and see the results of your filtering choices. Additionally, the RTA can be displayed on top of the 31-band graphic EQs in the Main LR or Aux buses. Monitoring and controlling frequencies have never been easier! 16 Channels of Personal Monitoring with ULTRANET connectivity allows you to send 16 digital sources over Cat 5 cable to P16-D Digital ULTRANET P16-M Personal Monitor Mixers and or TURBOSOUND iQ Series loudspeakers, which use the 16-channel digital bus. Each channel features Low-Cut, 4-band fully parametric EQ, Gate and Compressor dynamics suite as in the X32. Expert or Simple functionality choice.
Main L/R bus for Front of House, 6 Aux buses are provided for dialling in the perfect monitor mixes, complete with inserts, dynamics, and either a 6-band parametric EQ or 31-band graphic EQ. MIDI In/Out for Live Performance Controllers, MIDI I/O port on the X18 mixer for external MIDI controller connection, ie X-TOUCH or B-CONTROL products, for controlling channels. The X18 also supports the Mackie Control protocol, you easily apply comprehensive remote editing and parameter adjustments via any compatible MIDI devices. Dedicated Apps and Software -- All Platforms Covered.
For Behringer X AIR mixer remote control, the X AIR EDIT free software with your computer, connect to the mixer via its built-in Ethernet (LAN) connector using a Cat 5 cable and all X AIR mixer functions are instantly mirrored on your computer screen. The item "BEHRINGER X AIR X18 DIGITAL MIXER USB/WIRELESS AUDIO INTERFACE DAW CONTROLLER" is in sale since Sunday, May 12, 2019. This item is in the category "Musical Instruments\Pro Audio Equipment\Mixers".
The seller is "benjieman" and is located in BIRMINGHAM, West Midlands. This item can be shipped to United Kingdom.
Number of Channels: 18
Inputs/Outputs: Analogue XLR In
Number of Buses: 12
Suited For: Front of House (FOH)
Features: 4-Band Equaliser
Number of Phono Inputs: 16
Number of Line Inputs: 16
Analogue/Digital: Analogue & Digital
Brand: Behringer